Wine Bloggers Unite in Walla Walla
43. That's the number of blog posts I put out last year. Unfortunately that wasn't enough for me to qualify (I needed 52) for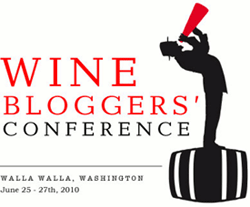 this year's Wine Blog Awards. Try as I might, I just couldn't churn out any more in time for the deadline, which came and went during one of my many business trips to…NY? MN? God Knows Where? Nonetheless, I'm heading to Walla Walla Washington tomorrow to attend the annual American Wine Bloggers' Conference. This will be my third year at the conference and I'm really looking forward to it, despite the fact that I really shouldn't be going away right now. (I've got all those damn piles, remember?!)
In between seminars on blogging, social media and the future of wine writing, I'm hoping to learn more about the Washington wine industry. I haven't been there in over a dozen years and I'm sure a lot has changed, just like here in Sonoma County. I'll get to play tourist, being entertained by the competition while sipping, swirling, and spitting my way through the region. (This is rare as usually I'm the one who's doing the entertaining!) I'll also be representing the Meritage Alliance which is a premier sponsor of this year's conference. Our Meritage delegation will be pouring member's wines and educating fellow bloggers about the merits of Meritage. I had hoped we could do a blending competition for conference participants (The Blogger's Blend Off!) but it just didn't work out. Maybe next year…
If you haven't checked out the nominations, you might want to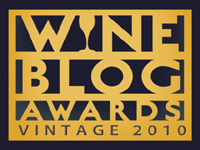 give them a read. Some are winery folks like me, who dabble in blogging. Most are professional writers who specialize in wine. And, some are full fledged bloggers who have transitioned 100% to online writing instead of traditional media. Whatever the case, they deserve your attention, as anyone who has a blog knows that it takes a big commitment.
So, let's hear it for this year's nominations to the American Wine Blog Awards! Even though Wilma isn't on the list this year, I'm proud to be part of the pack.
welcome!
This is a blog about what it's really like to be in the wine industry...so sit back, take a sip and enjoy!

about me

our wines

our winery

our events

contact me

privacy statement




favorite posts
A Lifetime in Wine
Top 10 Traits of the Successful Family Winery
The Dreaded Family Meeting
Board Meeting Jitters
Is the Future of the Winery in Danger?
The Case of the Overweight Bottle
Wine and Dementia
Wanted: Talented (Normal) Individual for Family Owned Winery
A Sea of Wine
The Heroes of Our Industry
monthly archives
subscribe