Gritty, Raw, International, Diverse, Exciting, Depressing, Humbling
These are the words that describe the NY wine selling experience. In a given day, I recently saw buyers from India, Peru, Taiwan, China, Italy, and of course, the melting pot of the good old US of A. Truly, this is one of the most ethnically diverse wine markets in the world. Buyers and gatekeepers of the trade (those who decide which wines to put on store shelves and restaurant wine lists) are as diverse as I've ever seen. I had to rely on every sales tactic I could think of—at one point, I'm sure I even resorted to outright batting of the eyelashes, which I'm not proud of, but heck, I was there to make the sale! There was something exciting and scary about it at the same time, and I must admit I loved every second of it. The wine market in New York is unlike any I've experienced, a colorful kaleidoscope of wines and wine buyers from every corner of the globe. It's thrilling while at the same time humbling as one realizes how truly insignificant you are in today's world of wine. (Sorry starry eyed winemakers but if you're just getting started, be prepared for a wake up call—nobody "needs" your new Syrah or hand crafted Merlot.)
I used every mode of transportation possible to get around the city- my legs, the subway, the public bus system, a guy on a bike pulling a rickshaw, and of course the famed yellow cabs of NY. I also learned very quickly that my version of "comfort" shoes didn't do justice to pounding the pavement New York style.
Each night I had some sort of business dinner at a cutting edge restaurant. While the balls of my feet burned from my day on the streets,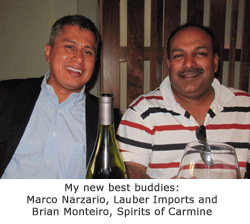 my taste buds rejoiced as I continued to tell the Dry Creek story for all who would listen. I felt like a religious missionary, trying to create DCV converts, one person at a time.
As I reflect back, I'd say the trip was a success. Sales were made, relationships forged, and DCV zealots are sprouting up in the Big Apple. I even promised my distributor I'd be back one more time before the end of the year. Until then, I'm putting away my BS detector and passing the baton to my hubby.
Today he heads to Texas to do the same thing all over again…
welcome!
This is a blog about what it's really like to be in the wine industry...so sit back, take a sip and enjoy!

about me

our wines

our winery

our events

contact me

privacy statement




favorite posts
A Lifetime in Wine
Top 10 Traits of the Successful Family Winery
The Dreaded Family Meeting
Board Meeting Jitters
Is the Future of the Winery in Danger?
The Case of the Overweight Bottle
Wine and Dementia
Wanted: Talented (Normal) Individual for Family Owned Winery
A Sea of Wine
The Heroes of Our Industry
monthly archives
subscribe