The Times They Are A-Changin'
Yesterday I spent the day working with a new sales rep for our California distributor. We met with half a dozen accounts in San Francisco in hopes of making some new placements. Tasting through our current releases together and telling the story of Dry Creek Vineyard was invaluable for him. Nothing better than hearing it straight from the horse's mouth, right? But it wasn't enough. We had lots of great feedback on the wines, and numerous requests to check back when other inventory has been depleted, but at the end of the day I didn't help this poor chap sell one bottle of our wine. The Husband on the other hand was in Florida kicking off our brand with a new division of our distributor. He too had been personally visiting accounts, sampling with wine buyers, and educating the sales representative with whom he was working. Middle of the day I got an update message on my cell phone: Day 1 he had sold 40 cases. Day 2, 30 cases. Not a bad haul even if he had to travel 3000 miles to do it.

I point this out for those of you who still think that the wine business is glamorous. Sure there are elements of glamour. I'll be the first to admit I enjoy strutting the Red Carpet during my annual pilgrimage to the SAG Awards. And, hosting a wine cruise for Windstar Cruises in a few weeks isn't a bad way to make a buck either. But at the end of the day, the wine business is tough and only getting tougher.

This became crystal clear for me at the last account I visited. The sommelier was blown away by the quality of our wines. (Although not as much as he was his own palate, which he kept reminding me was one of the best in the city!) At the end of the tasting, I asked to see the wine list. (It's always good to see if there's a "hole" i.e., no wines from the Dry Creek Valley appellation, or a lack of great Zinfandels, etc.) Much to my horror, I did not recognize ONE SINGLE brand name. And it wasn't because they were from Timbuktu or some other obscure region. These were wines from well known California AVAs. Yet, I had never heard of any of them. My heart starting thumping and my breath became well, sort of labored. In that split second I realized that no matter how fantastic our wines, how amazing our reviews and scores, or how hard we work to promote our products in the marketplace, the industry as I know it has changed. Labels are becoming like bunny rabbits, expanding and multiplying at such an alarming rate that making a placement on a wine list or store shelf is becoming an act of God.

And it isn't limited to just wines. Check out this photo. Never in my lifetime in this industry, first as a kid growing up in it, and later as my chosen profession, have I seen something like this in the Dry Creek Valley. Some poor schlock using guerilla marketing tactics to market his unsold grapes...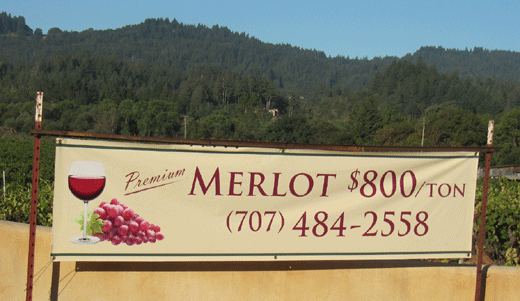 To put it bluntly, and as Bob Dylan once said,
"The Times They Are A-Changin'!"
welcome!
This is a blog about what it's really like to be in the wine industry...so sit back, take a sip and enjoy!

about me

our wines

our winery

our events

contact me

privacy statement




favorite posts
A Lifetime in Wine
Top 10 Traits of the Successful Family Winery
The Dreaded Family Meeting
Board Meeting Jitters
Is the Future of the Winery in Danger?
The Case of the Overweight Bottle
Wine and Dementia
Wanted: Talented (Normal) Individual for Family Owned Winery
A Sea of Wine
The Heroes of Our Industry
monthly archives
subscribe