Wine PR Sinks to a New Low
For some time now, and rather increasingly I might add, I have been the recipient of useless, mindless, self serving PR pitches and public relations agency press releases. These come from all manner of competitive wine and liquor brands, and also from some of the supposedly top public relations agencies in the country. What a joke.
Not only does it reveal a fundamental flaw in the public relations efforts of most wine/beverage alcohol companies, it also points to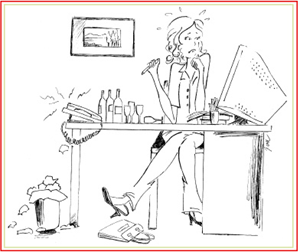 the impersonal and lazy effort that so many PR people put forth today. People just don't do their homework anymore.
Case in point, I do not review wines. I am not a legitimate wine writer. And, I am most certainly not someone you need to brown nose or get to know because I am influential.
Hell, my name isn't even Wilma! I am merely a winery owner/wine marketer/second generation family business member trying to give a glimpse into the inner workings of a lifetime spent in the wine industry. Yet somehow, I've mysteriously become a targeted blogger in the coveted, almighty wine media database. Ha, I guess I've arrived!
The nice thing about this, of course, is I am learning all kinds of things about my competition, the industry, and other beverage alcohol industries. I am also learning how frustrating and downright irritating it can be for legitimate wine writers, media folks, bloggers, etc. to continually receive pitch after pitch. If you're one of these people out there doing the pitching, here are some pointers:
Using my name in the subject line or first sentence of a PR pitch is a dead giveaway that you're trying to pitch me. Having said that, it's a trick that works nearly every time, even though I know better.

Seasonal story ideas or pitches with a holiday tie-in, such as "The Perfect Sangria for America's Favorite Holiday" are a good reminder of the time of year it is, but not much else; at least not for me.

Recipes get my attention. Fun or unusual wine and food combos and/or a new twist on an old favorite also get the creative juices flowing. Having said that, I have never once been compelled to write about or recreate any of the recipes I've been sent. Now... something like "Sake and Hot Dogs" might just be repulsive enough to actually do the trick.

There's a crap load of competition out there. No wonder it's so difficult to get ink for a brand!

Wine writers, editors, etc. actually do need help generating material. But the most effective way to get their attention is through a genuine, personalized story idea that would really serve their readers. Do your homework. As an example, if someone was truly pitching me and they had done their homework on this blog, they would know I'm interested in information/statistics on the health of family wineries, comical anecdotes from other winery families, stories that debunk the silly notions people have about being in the wine industry, and just about anything wine related that raises an eyebrow, makes me chuckle, or is contrary to popular belief.
There you have it.
Now I think I'll just sit back and wait for those ideas to come rolling in... it would sure make my life easier if I didn't have to think of this stuff myself!
welcome!
This is a blog about what it's really like to be in the wine industry...so sit back, take a sip and enjoy!

about me

our wines

our winery

our events

contact me

privacy statement




favorite posts
A Lifetime in Wine
Top 10 Traits of the Successful Family Winery
The Dreaded Family Meeting
Board Meeting Jitters
Is the Future of the Winery in Danger?
The Case of the Overweight Bottle
Wine and Dementia
Wanted: Talented (Normal) Individual for Family Owned Winery
A Sea of Wine
The Heroes of Our Industry
monthly archives
subscribe