Post Partum Holiday Blues
Is anyone else out there suffering from this? It's that "damn...is the holiday break really over already?????" blues. In my case, I've prolonged it as long as possible, spending a good part of this week playing catch up at home. We've cleaned out closets, rearranged furniture, ordered a big boy bed for our son who simply couldn't fit in the tiny bunk beds anymore, and a whole host of other "honey do's" that had been mounting up. It feels good to be somewhat caught up.
Oops, I forgot to say Happy New Year! I hope that everyone reading this had a wonderful holiday season with plenty of rest, relaxation, and good wine.
I used to be one of those people who get completely stressed out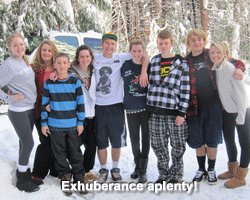 during the holidays. The mere thought of shopping, wrapping, decorating, and entertaining on top of everything else was mind boggling. And while I love the thought of the holidays, truthfully the added stress made me crazy. This year was different. Instead of running myself ragged trying to do it all; I let a lot of things slide. I never quite got the mantel decorated, but who cares. My tree was less than perfect and no one gave a hoot. (Truth be told, I still had a giant pumpkin on my porch which jauntily sported a Santa hat!) It helped that we didn't have our usual houseful of out of town guests. Instead we focused on spending as much time as we could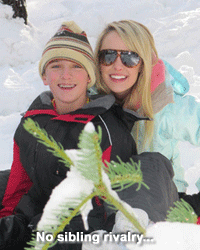 with the kids. We also got in quite a few days at the snow, shhusshhing down the slopes with my two teenagers and their hormonal friends. I hadn't skied in years and I'm hooked. (Don't be surprised if I suddenly volunteer for a tasting in Tahoe!)
One of the best things about the Xmas break is that it is just that, a break. That is why we give Christmas Eve, Christmas Day, New Year's Eve, and New Year's Day off as holidays. It's a time to rejoice and refresh, slow down and take stock. Spend time with family or simply do the things we love to do but so rarely have the time to indulge. For me that meant no computers, no cell phones, no high heels. In essence, I led a simpler life which is now at the very top of my New Year's Resolution list!
Here are my other resolutions:
Perfect my guitar skills so Cheryl Crow will want to be my friend
Learn to play the harmonica
Overcome my fear of black diamond ski runs
Drink champagne on a more regular basis
Stop worrying so much
Stop writing blog posts late at night
Make health a priority
Lose some weight
Hit the gym more regularly
Take a dance class
Travel less but smarter
Hold others accountable
Streamline wherever possible
Get more sleep
Spend more time smiling
Spend more time with my kids
Spend more time with The Husband not talking about the business!
I always start the year full of hope and expectation. Maybe this is the year I'll finally get it right. Whatever "it" is, right? But "it" is right now. "It" is my reality and if it isn't working for me, I need to change it. What does that mean? I'm not sure, but watch out world, I've got a fire in my belly and change is a-comin'!
What are your New Year's Resolutions?
welcome!
This is a blog about what it's really like to be in the wine industry...so sit back, take a sip and enjoy!

about me

our wines

our winery

our events

contact me

privacy statement




favorite posts
A Lifetime in Wine
Top 10 Traits of the Successful Family Winery
The Dreaded Family Meeting
Board Meeting Jitters
Is the Future of the Winery in Danger?
The Case of the Overweight Bottle
Wine and Dementia
Wanted: Talented (Normal) Individual for Family Owned Winery
A Sea of Wine
The Heroes of Our Industry
monthly archives
subscribe