Feelin' The Love...
Take a close look at this photo. I mean a really close look.
See it? The camaraderie. The satisfaction. The look of mutual agreement. It's the look of collective agreement...of shared vision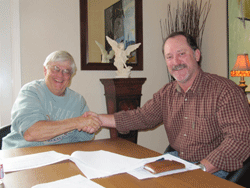 ...of pride and respect...of multi-generational collaboration.
We've worked hard to cultivate this look. Me, I'm a master at it. A whiz really. Because, I'm the glue that keeps this whole place together. You laugh, but it's true. (Frankly, I deserve a Medal of Honor for surviving the periodic warfare that occurs in a business where the management are also family members related to each other...)
Now that I've got your attention, let me gloat. We have been at a crossroads with the wholesale side of our business. The resignation of our national sales manager, the person responsible for the sales of our wines through the 3 tier system, recently opened up an exciting new door. As a well-loved member of our senior management team, we were sad to see him go. However, as with all things, change can be good. Especially when it creates an opportunity for new ways of thinking and new business strategies to evolve.
After lengthy research into our options for handling the future of our national sales (Do we hire a replacement? Do we promote from within? What is the best option for the future??? What is the best option for the family???) we've decided to partner with a new wine sales company called V2 Wine Group. Founded by respected industry veteran, Dan Leese, we are excited and proud to be part of this growing and innovative venture. Dan's background is extremely impressive. And he has surrounded himself with equally impressive people, including his wife Katy. Together they are building a national sales organization focused on bringing high quality family owned wineries to the marketplace. They will be managing our network of U.S. distributors and representing Dry Creek Vineyard's wholesale interests nationally. In addition to our wines, they also represent longtime neighbor and friend Toad Hollow Winery, Steelhead Wines, and several small negociant brands. What makes this opportunity so positive is that when it's all said and done, we will go from having just a few sales people managing our national sales to 8 people, so we are doubling our "feet on the street". We will also have a key accounts specialist calling on the PF Changs and Legal Seafoods of the world...an important and growing segment of the American restaurant business.
The decision to do this did not come lightly. And, we made sure to do it as a family, so not one person could blame the other, if things went awry.
I took this photo shortly after we made our decision. And that's why I wanted you to see it. It was a very special day and hopefully, the first of many, many, more. I've entitled it:
Yes, We Can Agree!
welcome!
This is a blog about what it's really like to be in the wine industry...so sit back, take a sip and enjoy!

about me

our wines

our winery

our events

contact me

privacy statement




favorite posts
A Lifetime in Wine
Top 10 Traits of the Successful Family Winery
The Dreaded Family Meeting
Board Meeting Jitters
Is the Future of the Winery in Danger?
The Case of the Overweight Bottle
Wine and Dementia
Wanted: Talented (Normal) Individual for Family Owned Winery
A Sea of Wine
The Heroes of Our Industry
monthly archives
subscribe