Pounding the Pavement
Oh, to have happy feet again! After a week of market work in New York, my dogs were not only barking, they were squawking as I boarded my flight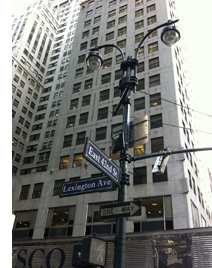 home yesterday. This was my 4th time to the Big Apple in the last 12 months and I'm starting to feel like a local in the city that never sleeps. It was a whirlwind trip that ended up being very productive on many accounts.
Wine was sold, relationships were forged and Dry Creek Vineyard got some well deserved attention and brand exposure in this important market. But perhaps the most satisfying part was my visit to the headquarters of Wine Enthusiast magazine.
It had been ages since I had made the trek to see my old friends at this publishing empire and while I feel like an old PR pro after all these years, there's still that slightly uneasy feeling I get when I'm about to meet with REALLY IMPORTANT PEOPLE who could probably throw a monkey wrench into our business if they really wanted to. (Thankfully, I've never encountered such a thing but the thought is always there.)
Boarding the train at Grand Central Station was a breeze. Finding my way to Mt. Kisco was equally easy so there really was no need to get all hot and bothered even though the temperature soared to a surprising 77 degrees. But I must admit, I felt a little hesitant as I opened the front doors to announce myself.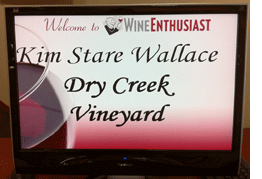 And then I saw it. A gracious welcome sign that had been customized with my name on it. I did a double take and breathed a sigh of relief while slowly grinning from ear to ear. That alone was worth the trip. For a split second I felt like Sally Field in her 1985 Oscar acceptance speech, "You like me, you really like me!"
After touring the extensive facility with Chairman and CEO Adam Strum, I was introduced to the Executive Editor. We chatted for about 45 minutes and immediately bonded over several editorial ideas. Then, Adam took me to lunch. We reminisced about the good old days and caught up on family, friends, and the industry at large. Adam was one of the first people I met when I started in this business over 25 years ago. Like me, he has observed many changes, both good and bad. But also like me, he's bucked the corporatization and homogenization of the wine industry and remains a family held company,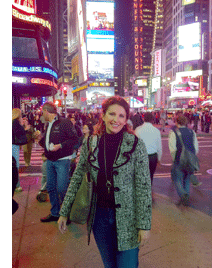 working with his wife Sybil and their two daughters. Today, Wine Enthusiast is one of the largest wine publishing, catalogue, and events companies in the world.
While I sometimes get a Dry Who? when I introduce myself or talk about our winery, being recognized as an old friend by an old friend was a welcome treat. I have a lot of respect for people like this...folks who remember their roots and honor their origins no matter how successful or powerful they've become. It's a rare trait, and one that is sorely lacking in this industry.
I left New York feeling happy and satisfied. While I hate being away, there's a sense of pride that comes with knowing there are some things that only I can do. Even if it means pounding the pavement until my little dogs are barking.
welcome!
This is a blog about what it's really like to be in the wine industry...so sit back, take a sip and enjoy!

about me

our wines

our winery

our events

contact me

privacy statement




favorite posts
A Lifetime in Wine
Top 10 Traits of the Successful Family Winery
The Dreaded Family Meeting
Board Meeting Jitters
Is the Future of the Winery in Danger?
The Case of the Overweight Bottle
Wine and Dementia
Wanted: Talented (Normal) Individual for Family Owned Winery
A Sea of Wine
The Heroes of Our Industry
monthly archives
subscribe