Wine Country 101
I absolutely love this time of year. The grass seems greener, the sky seems bluer, and the wine tastes delicious. Maybe it's just a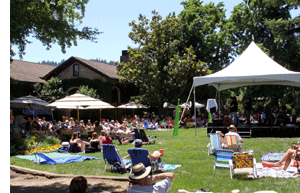 touch of summertime fever but I doubt it. Living and working in wine country is a lifestyle like no other. This time of year, there is an endless amount of abundant sunshine and activities galore. And that got me to thinking - I live and work so close to nirvana (and I am certainly blessed to do so) but what about folks traveling to wine country for the first time or making a short weekend or day trip? Talk about overwhelming! Hundreds of wineries, events of all kinds, shopping, restaurants, and outdoor activities - the list of things to do are endless. How can one possibly narrow it down to a more manageable list?
So, without further ado, here are some of my basic wine country 101 pointers that I hope will make your visit more enjoyable.
Take your time. It's not a race. Enjoy yourself and map out a reasonable itinerary. I recommend that people never try to visit more than four wineries in one day.

Stop and eat lunch. You'll be glad you did. Lots of wine on an empty stomach never yields good results. The Dry Creek General store across the street from our winery serves terrific sandwiches and other nibbles and or course, we have beautiful picnic grounds.

Consider your route. Don't try to start in Sebastopol and end up in the Dry Creek Valley. It's too much driving and you don't want to spend a beautiful summer day in wine country in your car! If you come to the Dry Creek Valley (which must include a stop at Dry Creek Vineyard - shameless plug - yes I know) then plan to spend the day here.

Look for something different to visit while in wine country. For example, DaVero has a killer place to taste olive oil and Dry Creek Peach and Produce is a fantastic stop for fresh peaches right off the tree.

Make a dinner reservation and stay awhile. In case you didn't already know, Healdsburg is a culinary mecca. The restaurant scene is outstanding with not less than a dozen world-class eateries to choose from. There is affordable wine country casual all the way up to 2-star Michelin rated. You can't go wrong!

Take advantage of some local fun and flair. All summer long, on Tuesday evenings, almost the entire town of Healdsburg shows up at the plaza for music from 6pm to 8pm. Yes, it's busy and crowded but talk about an incredible piece of small town charm! Families, friends, co-workers; you name it, enjoy wine, food and casual conversation. It's a blast. Also, there is a Saturday morning farmers market behind the Hotel Healdsburg that is fantastic!
Whatever you decide, I hope your plans will take you to Dry Creek Vineyard this summer. If you do plan to come, give us a shout ahead of time - we always like to have something special for our friends of Wilma!
Happy wine tasting!
Bill Smart, Director of Communications
welcome!
This is a blog about what it's really like to be in the wine industry...so sit back, take a sip and enjoy!

about me

our wines

our winery

our events

contact me

privacy statement




favorite posts
A Lifetime in Wine
Top 10 Traits of the Successful Family Winery
The Dreaded Family Meeting
Board Meeting Jitters
Is the Future of the Winery in Danger?
The Case of the Overweight Bottle
Wine and Dementia
Wanted: Talented (Normal) Individual for Family Owned Winery
A Sea of Wine
The Heroes of Our Industry
monthly archives
subscribe