The Third Generation
Meet the newest member of our winery staff. She's smart, she's pretty and best of all, I can hug or kiss her anytime I want without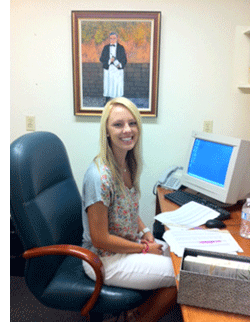 getting sued! 'Cause I'm her mom.
Welcome Taylor Love Wallace. Our daughter recently graduated from high school, and is now working part time over the summer for our human resources dynamo, Sally.
Taylor is doing a hodge podge of administrative tasks and boy, talk about bringing back a flood of memories...
I can vividly remember being the same age and working for Lynda Honeysett our office manager at the time. Like Sally, she was very kind and loving, taking me under her wing to show me the ropes. I thought I was such a big shot learning about credit memos, and helping her (this was before the winery had its first computer) hand enter debits and credits into the general ledger. It was the late '70s and there was another youngster working here at the time, Gary Emmerich. Gary is our Director of Sales Administration and is still with us today. He and I sort of grew up at Dry Creek together and I have nothing but the upmost respect and gratitude for his many contributions and long tenure with our family business. I can't imagine the place without him.
It makes my heart warm thinking about those early days, and how another generation of youngsters is sticking their toes in the water at Dry Creek. Who knows, maybe Taylor will end up running the place someday. If she does, watch out everyone. This is a girl with shrewd negotiation skills, a keen mind, and leadership qualities up the wazoo. Frankly, she makes mom look like a pansy. Her favorite bit of advice for me? "Why don't you just fire them?"
Good grief!
welcome!
This is a blog about what it's really like to be in the wine industry...so sit back, take a sip and enjoy!

about me

our wines

our winery

our events

contact me

privacy statement




favorite posts
A Lifetime in Wine
Top 10 Traits of the Successful Family Winery
The Dreaded Family Meeting
Board Meeting Jitters
Is the Future of the Winery in Danger?
The Case of the Overweight Bottle
Wine and Dementia
Wanted: Talented (Normal) Individual for Family Owned Winery
A Sea of Wine
The Heroes of Our Industry
monthly archives
subscribe