Another Milestone for Meritage Wines
It's hard to believe that the Meritage Association is celebrating its 20th anniversary. For those of you who are either new to wine or unfamiliar with wine nomenclature, Meritage is the term used to describe wines blended in the classic Bordeaux tradition. It is an invented term combining the words "merit" and "heritage" and was selected by a group of vintn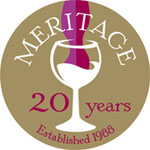 ers 20 years ago (my father being one of them) as a way of categorizing these wines in the U.S. You may wonder why we ever needed a name? Well, the government requires that anything made with less than 75% of a single varietal be called simply, TABLE WINE. Not the most glamorous of names and very restricting for winemakers who want to stretch the limits of blending. Many said it would never fly. But here we are 20 years later with over 200 members in the Meritage Association, and scores of others making Meritage blends under their own proprietary name. And while the term is not necessarily a household word, it is a widely accepted acronym for high quality handcrafted blends made from the traditional Bordeaux varieties.
In observance of the 20th anniversary, a number of us founding members staged a tasting spanning three decades for selected members of the wine media. It was an interesting assortment of wines, as well as producers. Dry Creek Vineyard, St. Supery, Cosentino, and Franciscan were represented as well as newcomer, Casa Nuestra. We all had one thing in common: the overall philosophy that wines blended from Cabernet Sauvignon, Merlot, Cabernet Franc, Petit Verdot, or Malbec (for a red blend) or Sauvignon Blanc, Semillon, and Sauvignon Vert (for a white) can be combined to make an outstanding and memorable blend. Sound like a bunch of marketing mumbo jumbo? Wrong.
I had the oldest wine, pouring our first vintage, the 1985 Meritage. I also brought the 1994 vintage, as well as our newest blend, the 2004 Mariner.
The '94s were across the board, full of life and absolutely delicious. Every single one of them was complex and rich and proof that a great vintage combined with artful blending can be exquisite. I can't wait to try them again in another 10 years. My 1985 vintage was still elegant and supple with subtle tones of cherry, rose petal, and rosemary. It is going through the "Porcelana" stage—still beautiful but showing some age spots. So if you happen to have a bottle, I'd crack it open and toast the 20th anniversary of Meritage. The 2004 Mariner was a showstopper with years of aging potential ahead. No botox needed for this one!
Anyway, it was fun to participate and even more fun to meet the lively group of characters who attended. Check out Wall St. Journal writer, Julia Flynn Siler's blog at www.juliaflynnsiler.com/blog, to learn more about her impressions of this historic tasting.
welcome!
This is a blog about what it's really like to be in the wine industry...so sit back, take a sip and enjoy!

about me

our wines

our winery

our events

contact me

privacy statement




favorite posts
A Lifetime in Wine
Top 10 Traits of the Successful Family Winery
The Dreaded Family Meeting
Board Meeting Jitters
Is the Future of the Winery in Danger?
The Case of the Overweight Bottle
Wine and Dementia
Wanted: Talented (Normal) Individual for Family Owned Winery
A Sea of Wine
The Heroes of Our Industry
monthly archives
subscribe