I Fumé, You Fumé, We All Fumé!
May is FOO-May month at Dry Creek Vineyard. That's right, we're championing the wine that is the flagship of our winery by dedicating an entire month to a series of educational tastings, food and wine pairings, music and more. If you're in the area, it's a great time to join us in celebrating the intrinsically refreshing qualities of this often-misunderstood wine. Stop by any weekend in May from 10:30-4:30 to join the fun!

Now that we've gotten over the quandary of whether to rename our beloved Fumé or not, (see blog post To Fumé or not to Fumé, t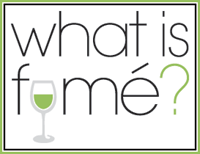 hat is the question) we're on a mission to educate the world. That's right, we're becoming Fumé missionaries. Instead of giving up, throwing in the towel, and dumbing down the wine by switching names to simply Sauvignon Blanc, we're holding our heads high and taking a stand. Fumé Forever! Long Live Fumé! Hooray!!
Best of all, we've launched a very cool new website, www.whatisfume.com. You simply have to check it out. It's your one stop shop for all things Fumé related, right down to especially designed recipes by our good friend, chef Tim Vallery…who incidentally will be opening a hot new restaurant, Peloton, in Healdsburg soon. (Remember, you heard it here first!)
So, now's your chance to get all your Fumé questions answered. Come and join us for all the fun in the sun by visiting us during FOO-May month! (We've had some rain lately, so I just had to throw in this last sentence. You know, the power of persuasion and all that…)
welcome!
This is a blog about what it's really like to be in the wine industry...so sit back, take a sip and enjoy!

about me

our wines

our winery

our events

contact me

privacy statement




favorite posts
A Lifetime in Wine
Top 10 Traits of the Successful Family Winery
The Dreaded Family Meeting
Board Meeting Jitters
Is the Future of the Winery in Danger?
The Case of the Overweight Bottle
Wine and Dementia
Wanted: Talented (Normal) Individual for Family Owned Winery
A Sea of Wine
The Heroes of Our Industry
monthly archives
subscribe