Girls Rock
There's been a slight shift in our cellar that deserves a mention. Lisa Bishop Forbes has been named head winemaker for Dry Creek Vine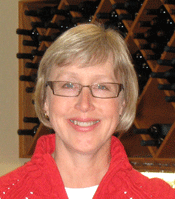 yard. This passionate woman has been quietly working side by side mentor Bill Knuttel, handcrafting our wines to the most exacting and discriminating standards. (Yes, we are very picky-uney around here!) Lisa has worked with Bill for over 13 years, first at Chalk Hill and for the last five, right here. Before that she was head enologist over at Joseph Phelps--not a bad ditty to have on her rap sheet either.
Lisa's soft spoken studious ways are refreshing. She's one of those people who gets the job done without a lot of self-puffery or fanfare. A rock star winemaker who doesn't need to remind us she is. A perfect combination in my book and a bit rare these days. I'm excited about this transition-both for Lisa and for Bill, who will continue on as our consultant several days a week.
One might wonder, why all these people? Do you really need that much winemaking expertise? Isn't one winemaker enough, for god's sake? NO WAY man. In today's wine world, we can leave no stone unturned when it comes to quality. So, while we aren't as glitzy or as glamorous as some (no fancy castle with gold guilded faucets and a Michelin chef) we're as world class as it gets when it comes to maximizing our fruit potential and making mouthwatering wines that leave people begging for more.
So, congratulations Lisa-- you go girl!
welcome!
This is a blog about what it's really like to be in the wine industry...so sit back, take a sip and enjoy!

about me

our wines

our winery

our events

contact me

privacy statement




favorite posts
A Lifetime in Wine
Top 10 Traits of the Successful Family Winery
The Dreaded Family Meeting
Board Meeting Jitters
Is the Future of the Winery in Danger?
The Case of the Overweight Bottle
Wine and Dementia
Wanted: Talented (Normal) Individual for Family Owned Winery
A Sea of Wine
The Heroes of Our Industry
monthly archives
subscribe