A Blogger's Holiday
Sometimes it takes someone we love to make us realize we're due for a change.
My 10 year old came to me recently w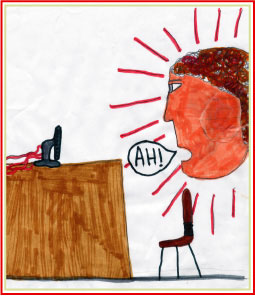 ith this drawing in his hand. I took one look and realized I needed a break from blogging. Actually, not just blogging, but life! So, I'm heading off to one of my favorite places on earth, MAINE. This beautiful and diverse state offers everything I hold near and dear to my heart.
Family, coastal access, sailing, relaxation, history, antiquing, eating pie and just plain old sitting around. And, no high heels, computers or cell phones! It might seem crazy that I have to travel 3000 miles away to chill out, but such is the reality for someone who lives and works right next to their place of business. For me, MAINE is a welcome respite in an otherwise franticly paced life here in wine country. (Yes, I know it's ironic that people come from all over the world to "get away" here in Healdsburg, and I head as far East as possible.)
So, I'll be taking a little break from my blogging, folks. And, hopefully I'll come back full of new insights and commentary for future posts. I'll sure have plenty of time to think about it. That is, if the fish aren't biting.
welcome!
This is a blog about what it's really like to be in the wine industry...so sit back, take a sip and enjoy!

about me

our wines

our winery

our events

contact me

privacy statement




favorite posts
A Lifetime in Wine
Top 10 Traits of the Successful Family Winery
The Dreaded Family Meeting
Board Meeting Jitters
Is the Future of the Winery in Danger?
The Case of the Overweight Bottle
Wine and Dementia
Wanted: Talented (Normal) Individual for Family Owned Winery
A Sea of Wine
The Heroes of Our Industry
monthly archives
subscribe