She's Baaaaccckkk..................
Ah, the magic of a good vacation. Nine glorious days with no responsibilities other than rowing the boat across the lake in search of "the big one" for my 10 year old angler. Yes sirree, it was sheer bliss!
It's funny how we desperately try to hang onto the relaxed peaceful feeling of a good vacation. And how rapidly it fades as the rigors of life in a multi-tasking world come crashing in. (I don't know about you, but I find it hard to stay calm when 140 emails are awaiting my reply!)
But this time, I came back to a very exciting assignment. And it was the perfect reentry following the perfect vacation, thanks to my whiz-bang PR Guy.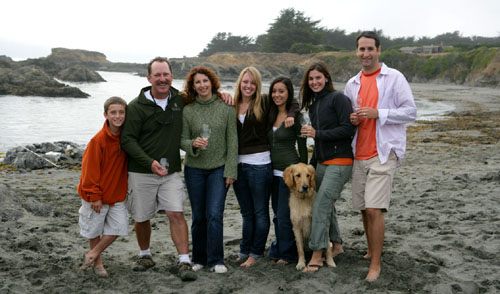 Left to right: My son Spencer, The Husband Don, Wilma, Daughter Taylor and her friend
Gabi, and Danielle - wife of Whiz Bang PR guy, Bill.

One of my all-time favorite magazines, Coastal Living, is doing a feature story on little 'ole Dry Creek. It's an entertaining piece with family recipes for abalone, the deliciously exotic marine mollusk that lives on the floor of the Pacific Ocean. The Husband is an avid diver and had scoped out the perfect beach for our photo shoot. Coastal Living sent four people, a photographer, food stylist, photo stylist and writer to capture the day and chronicle the effort of abalone diving, preparing and serving this delicious treat. (If you've never had abalone, it's sort of a cross between veal and chicken, except you have to pound the bejesus out of it to make it even edible.) There was a lot of standing around on the beach trying to look natural while we pretended to eat, drink and be merry. (The kids weren't too happy about the pretending part; they wanted to chow down!) In the end, (the shoot lasted 2 full days) we were all beat but thrilled by the outcome. And, best of all, my 15 year old has crossed modeling off her potential career choice list. Hallelujah!

Now it's back to business as usual. Guess I better start tackling those emails.

P.S. Thanks to everyone for the nice comments before I left!
welcome!
This is a blog about what it's really like to be in the wine industry...so sit back, take a sip and enjoy!

about me

our wines

our winery

our events

contact me

privacy statement




favorite posts
A Lifetime in Wine
Top 10 Traits of the Successful Family Winery
The Dreaded Family Meeting
Board Meeting Jitters
Is the Future of the Winery in Danger?
The Case of the Overweight Bottle
Wine and Dementia
Wanted: Talented (Normal) Individual for Family Owned Winery
A Sea of Wine
The Heroes of Our Industry
monthly archives
subscribe