A Fresh New Look
I am in the middle of a very exciting project and one that only comes around every so often — a complete new label design! For those of you who are die hard Dry Creek fans, and love our sailboat labels, don't worry, I'm not getting rid of our characteristic sailboats (horrors!). Nor, am I going to some weird outlandish design, what I call the "hey, look at me damnit" label. (Lord knows there are enough of those out there.) And, I promise you no critters will ever grace our labels!
Rather, it's a refinement of the original design and layout, with a revised use of the oil paintings that we had commissioned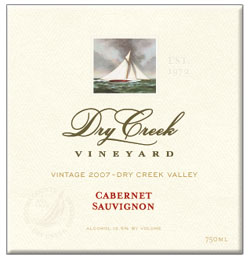 by local artist Michael Surles years ago. I'm working with Tony Auston of Auston Design Group, who by the way, I highly recommend.
A project like this, for a brand like Dry Creek is tricky. We have years of brand recognition and very identifiable wine labels. And, we can't afford to screw it up! But, it's time we have a package that reflects the true quality and distinction of our wines. So while sailing and all things nautical are still family passions, I'm toning them down a bit to portray a more upscale and serious image. But don't think we're going to get all snooty and arrogant like so many others who've entered this industry. No way man. However a grown up version of our former selves is in order, given the serious quality of our wines these days.
I'm also hoping to come up with a tagline that we can use. Something that captures the true essence and authenticity of our family winery and wines. So, if there are any brilliant word meisters out there, I'd love to hear your ideas!
welcome!
This is a blog about what it's really like to be in the wine industry...so sit back, take a sip and enjoy!

about me

our wines

our winery

our events

contact me

privacy statement




favorite posts
A Lifetime in Wine
Top 10 Traits of the Successful Family Winery
The Dreaded Family Meeting
Board Meeting Jitters
Is the Future of the Winery in Danger?
The Case of the Overweight Bottle
Wine and Dementia
Wanted: Talented (Normal) Individual for Family Owned Winery
A Sea of Wine
The Heroes of Our Industry
monthly archives
subscribe