Wilma's Apple Parmesan Pie
Yikes. The holidays are here! How does this happen every year??? I always swear I'm going to be better prepared, so I don't turn into The Grinch. But as usual, the end of November arrived and I'm still buried in end of year budgeting, sales meetings, marketing planning, production projections, and all the usual mish mash so we can hit the ground running in 2009. And of course, there's always the last minute push to capture holiday wine sales.
So, my blogging has taken a back seat lately. But I didn't want Thanksgiving to come and go without sharing one of my favorite family recipes. My world famous Apple Parmesan Pie. Well it's not exactly world famous, but in our household, it's an annual tradition and a dish that passes the Food Meister's (my husband) inspection. I've been making this pie for over 25 years and it is one of my favorite dishes to serve during the holidays.
It might seem like no big deal, but this recipe has an emotional connection for me. Because, in my family, there's a little secret. Mom can't cook. Well, it's not exactly that Mom can't cook. (Heck, I even went to a fancy French cooking school at the tender age of 18.) It's just that Dad is a better cook. And, cooking for the holidays is always managed by Dad. He assumes this role with great gusto and clearly enjoys giving out orders to all that enter the kitchen. So, while The Food Meister is sautéing, deglazing, stuffing, and roasting, I'm generally relegated to chopping, peeling, and washing endless amounts of dishes. Of course, a yummy glass of wine is never too far away, which always makes my job more enjoyable.
If you haven't finalized your Thanksgiving menu yet, give this recipe a try. It's fool proof, and absolutely delicious. And, if you happen to have a bottle of our Soleil (Late Harvest Sauvignon Blanc) handy, you've got a perfect dessert wine to end your holiday meal.
Many blessings for a joyous Thanksgiving!
P.S. If you have a favorite recipe to share, I'd love to add it to my repertoire. I'll let you know if it passes The Food Meister test!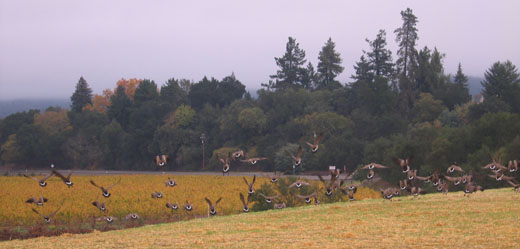 Not exactly Turkeys, but beautiful just the same! Dry Creek Valley, November 21, 2008.
welcome!
This is a blog about what it's really like to be in the wine industry...so sit back, take a sip and enjoy!

about me

our wines

our winery

our events

contact me

privacy statement




favorite posts
A Lifetime in Wine
Top 10 Traits of the Successful Family Winery
The Dreaded Family Meeting
Board Meeting Jitters
Is the Future of the Winery in Danger?
The Case of the Overweight Bottle
Wine and Dementia
Wanted: Talented (Normal) Individual for Family Owned Winery
A Sea of Wine
The Heroes of Our Industry
monthly archives
subscribe