The Schmoliday Mis Mis Party
This is the time of year when holiday events start to really stack up. There are winemaker dinners, end of year business engagements, our annual wine club event and of course, The Company Christmas Party. I have always enjoyed this one the best. Even in the leanest of years, (2008 qualifies) we have thrown some sort of a holiday party for the entire winery staff and their spouses. Over time, it has grown from a handful of devotees to nearly 75 people with all the wives, husbands and significant others in tow. It's our way of saying thanks for a job well done and gives everyone a chance to let their hair down together. We've thrown some doozies, trust me! Everything from train trips to faraway restaurants, boat rides on the San Francisco Bay, to dinner and a lively DJ. (Dancing is nearly always part of the festivities as there's nothing more humorous than watching the CEO break-dance with a cellar worker.)
But somewhere along the way, it became politically in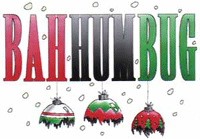 correct to throw a company Xmas party. From what I'm told, the word Christmas might be offensive. The word Holiday is even pushing it. And, I'm just not sure about the word Company. To be truthful, I find the whole thing rather confusing. Don't get me wrong. It's not because I'm insensitive to the personal beliefs of others. (On the contrary, I'm very respectful about things like that.) Nor, am I'm some die hard Christmas fan who starts putting up decorations in August. It's just that it seems like practically everything we do in business today is potentially offensive, risky, or illegal.

So, after 36 years of Xmas Parties, we've come up with a new name for showing our appreciation and making merry with the staff. The End of Year Employee Celebration. It just doesn't have quite the same ring to it though. Nor does it roll off the tongue all that easily. Just yesterday, I overheard someone in the hallway ask a co-worker, "Hey, are you coming to The End of Year Employee Celebration?"

Bah Humbug.

Clearly, we need a new name. How about The Schmoliday Mis Mis Party? It's easy to say and sounds like a whole lot more fun to me. Any other brilliant ideas?
welcome!
This is a blog about what it's really like to be in the wine industry...so sit back, take a sip and enjoy!

about me

our wines

our winery

our events

contact me

privacy statement




favorite posts
A Lifetime in Wine
Top 10 Traits of the Successful Family Winery
The Dreaded Family Meeting
Board Meeting Jitters
Is the Future of the Winery in Danger?
The Case of the Overweight Bottle
Wine and Dementia
Wanted: Talented (Normal) Individual for Family Owned Winery
A Sea of Wine
The Heroes of Our Industry
monthly archives
subscribe