Enticing the Next Generation
The thing about growing up with parents in the wine business is that it doesn't seem very glamorous. Dinnertime talk about inventories, sales results, wine scores, distributor problems, financial hurdles, upcoming business trips, water rights issues, crop loads, frost protection, the cost of barrels, or personnel problems are not very enticing to a youngster. Throw on top of that the 24/7 nature of the business and endless up and down cycles, and it's a miracle anyone ever convinces their offspring to sign on. I know, as this was how I was raised. And, it took years before my own parents finally convinced me. (Frankly, I don't know how the European families have been doing it for all those centuries.)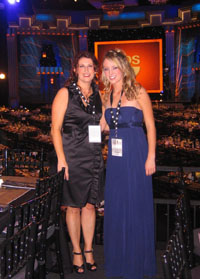 Flash forward to 2009 and I'm in a similar bind with my eldest. She's an intelligent, beautiful, charming and self-assured young woman who would be quite an asset to our winery. And, she has one of the most important skills of all, the power of persuasion and negotiation. Boy, would I love to put her in front of the toughest wine buyer. "What do you mean, you already have a Zinfandel on your list?"

So, for my daughter's 16th birthday, I took her to the Screen Actors Guild Awards. It was the 9th year that our wines were featured exclusively at the SAG Awards and I figured if any wine event would entice her, this would be it. Never mind that it's nothing like the real wine business. Never mind that it only happens once a year. This was fantasy time. And, boy did it do the trick. Suddenly, mommy's job seems pretty darn cool. Maybe even something to consider for the future?

Hmmm, maybe we'll make it to the third generation after all. There's hope anyway. And, that's enough to get us through a few more years, if not decades.
welcome!
This is a blog about what it's really like to be in the wine industry...so sit back, take a sip and enjoy!

about me

our wines

our winery

our events

contact me

privacy statement




favorite posts
A Lifetime in Wine
Top 10 Traits of the Successful Family Winery
The Dreaded Family Meeting
Board Meeting Jitters
Is the Future of the Winery in Danger?
The Case of the Overweight Bottle
Wine and Dementia
Wanted: Talented (Normal) Individual for Family Owned Winery
A Sea of Wine
The Heroes of Our Industry
monthly archives
subscribe