Bringing Out a Moldy Oldy
Whenever I feel nostalgic, I pull out an old wine. More often than not, it's a bit of a disappointment as I seem to have lost my taste for older red wines as I age myself. They're usually pretty tired, with little of the fruit characteristics associated with the varietal and an aroma of barnyards and blue cheese basking in the sun. (How's that for a description!)
I proved myself wrong last week and took a bit of a risk at a major industry schmooze fest. Wine Spectator's annual Big Bottle party was held last Tuesday at the acclaimed Dry Creek Kitchen. This is a "must attend" event for any self respecting brown nosing vintner as it's a great opportunity to visit with the folks from WS in addition to hanging out with all your winery friends and colleagues. And besides, Marvin Shanken knows how to put on a helluva good party.
As a fun twist to all the rare and special wines, we decided to bring a moldy oldy from our wine library. We chose a 1974 Zinfandel. (I was 11 when it was made and it was my father's second red wine vintage.) While we weren't quite sure what to expect, we figured few in the industry can do this and besides, it's fun to test the knowledge and palates of so many noted winemakers.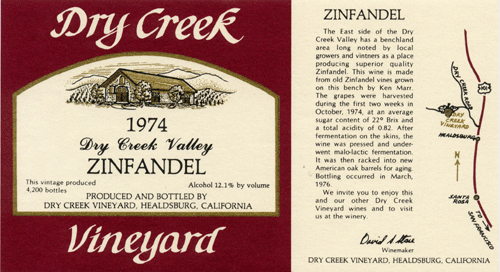 We covered up the vintage and the varietal and set up a guessing game. At least a dozen people put down their guesses, but not one person got it right. Until the very end, when the much respected, often controversial Jim Laube himself guessed it correctly. I must admit, we were very impressed. So, while many in our industry like to complain that his palate is biased, or his judgment not fair, clearly the guy knows his stuff.

More power to ya, Jim!
welcome!
This is a blog about what it's really like to be in the wine industry...so sit back, take a sip and enjoy!

about me

our wines

our winery

our events

contact me

privacy statement




favorite posts
A Lifetime in Wine
Top 10 Traits of the Successful Family Winery
The Dreaded Family Meeting
Board Meeting Jitters
Is the Future of the Winery in Danger?
The Case of the Overweight Bottle
Wine and Dementia
Wanted: Talented (Normal) Individual for Family Owned Winery
A Sea of Wine
The Heroes of Our Industry
monthly archives
subscribe