The Endless Business Dinner
If you're planning on getting into the wine business, it helps if you have a good smile. It's even better if you can smile on demand--through clenched teeth, challenging scenarios, frustrating personalities and endless business dinners.
This is one of many prerequisites for success …the ability to look and act perfectly happy while making lively politically correct conversation with complete strangers. Don't get me wrong. I'm not the unfriendly or snobby sort. On the contrary, I love meeting new people and can be quite a chatterbox. BUT, the endless business dinner is a necessary evil that separates the men from the boys, the women from the girls, and ultimately, the brands that get sold from the ones that don't.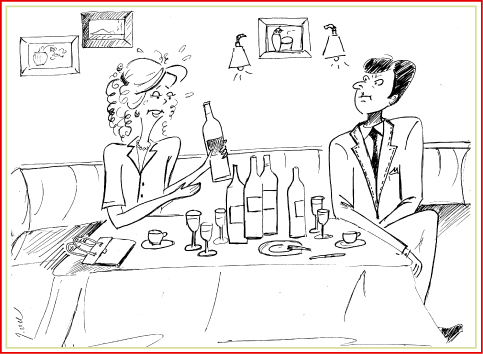 Let me explain. The majority of our wines are sold through wine and liquor distributors all over the country. Other than members of our wine club or visitors to the tasting room, this is the only way we can get our wines to a specially selected store or restaurant near you.
These distributors sell 1000s of wines from all over the world. They're buried in inventory and inundated with brands. The same is true at the account level. That's where the endless business dinner comes in. And the endless business trip. Followed by the endless sales call. Year after year after year.
Seriously folks. Without a fair amount of what we call "face time" in the marketplace, it's just too darn easy to become the forgotten one. I've seen this happen all too often. Perfectly good brands that fade into oblivion for no apparent reason. Lucky for him, my father was a natural at this form of promotion. He loved getting out into the market and was darn good at it in his day. Lucky for me, The Husband and I also enjoy traveling the nation to spread the good word about Dry Creek Vineyard. But I must admit there are times when it can be difficult to muster up the stamina to head off to the endless business dinner.
That's when that smile comes into play.
Good thing my chompers are in shape and my cheek muscles still in tact. 'Cause judging by ALL the wines out there these days, it looks like I'm going to need them for a long time!'
welcome!
This is a blog about what it's really like to be in the wine industry...so sit back, take a sip and enjoy!

about me

our wines

our winery

our events

contact me

privacy statement




favorite posts
A Lifetime in Wine
Top 10 Traits of the Successful Family Winery
The Dreaded Family Meeting
Board Meeting Jitters
Is the Future of the Winery in Danger?
The Case of the Overweight Bottle
Wine and Dementia
Wanted: Talented (Normal) Individual for Family Owned Winery
A Sea of Wine
The Heroes of Our Industry
monthly archives
subscribe