Dear Santa,
This has been a tough year. I have tried hard to be a good girl. I know I didn't always answer all my emails on time, or return all those darn phone calls, but I tried to keep a smile on my face and keep the faith even when being told "no". I hope you will think of me as you put together your Christmas gift list this year. Here is my wish list:

| | | |
| --- | --- | --- |
| 1 | | An improved economy. I'd like people to have good jobs with a little extra money so they can enjoy the finer things in life like wine. |
| 2 | | A 90 point score. Or, a mention on the Oprah Winfrey show. (I'd be happy with either, Santa.) |
| 3 | | The end of distributor consolidation. Or, at the very least, my distributors to pay more attention to us. Or, for lots of wineries to decide they don't need distributors after all. |
| 4 | | Some extra French barrels. (I know they're kind of big for my stocking, but they would fit nicely around the tree.) |
| 5 | | A new software system. Boring, I know, but it would really help improve our business. |
| 6 | | A redesigned tasting room that includes a private tasting area for wine club members and an outdoor garden area that we can reserve for our visitors. |
| 7 | | A new way to traverse the country-one that doesn't involve airplanes! |
| 8 | | A high speed money collection method. Net 60 isn't cutting it anymore. |
| 9 | | Extended payment terms from most of our vendors—somewhat contradictory to #9, but what the heck. |
| 10 | | A little extra time with family and friends. Make that a lot. |
| 11 | | Ditto on #10. |

But mostly Santa, I want peace, happiness, health, and prosperity for all. I want all my blog readers to know how much I cherish their feedback and support—it is what keeps me going in the wee hours of the night. I especially hope our employees have a joyous and restful time with their families. They deserve it.
Thanks Santa,
Love,
Kim (aka Wilma)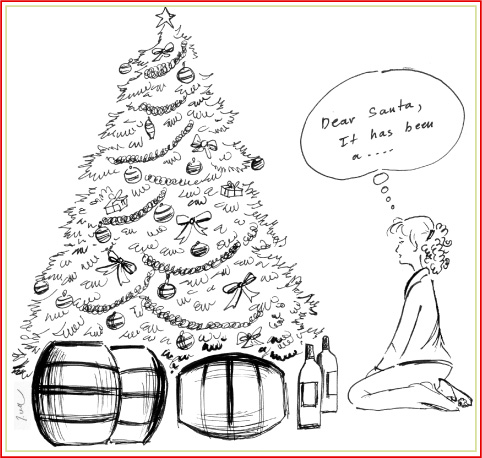 welcome!
This is a blog about what it's really like to be in the wine industry...so sit back, take a sip and enjoy!

about me

our wines

our winery

our events

contact me

privacy statement




favorite posts
A Lifetime in Wine
Top 10 Traits of the Successful Family Winery
The Dreaded Family Meeting
Board Meeting Jitters
Is the Future of the Winery in Danger?
The Case of the Overweight Bottle
Wine and Dementia
Wanted: Talented (Normal) Individual for Family Owned Winery
A Sea of Wine
The Heroes of Our Industry
monthly archives
subscribe