The Red Carpet Wine
I have started this post at least a dozen times. The first was shortly after New Years when I was filled with excitement for a whole new era. Like many, I was filled with optimism and hope. And a few extra pounds from the indulgences of my holiday spirit. We had survived 2009 and were looking forward to a bright new year. Then I got distracted and found something better to do like rearrange my sock drawer.
My next attempt was after I got a call from People magazine (yes, the People magazine!) requesting photos for their story on the Screen Actors Guild Awards® show. I had been interviewed shortly before Christmas as part of our 10th Anniversary at the show and admittedly, I was (still am) on cloud nine after learning that we would be mentioned in an upcoming issue. But then the earthquake happened. And the wind was let out of my sails as I learned about the tragedies and human trauma facing the people of Haiti. No matter how many times I try to put it out of my head, the situation there is so disturbing that it makes a small thing like writing a blog post seem rather insignificant and inconsequential.
This is not the first time I've had this feeling. Granted, running a family owned winery is not a bad way to make a living. And, I like to think that the pleasure our products provide will have some kind of a lasting impact long after I/we're gone. But it's not a cure for cancer, nor is it relevant when compared to the problems of the world today.
Unless you're a brain surgeon, I'm sure you can relate. But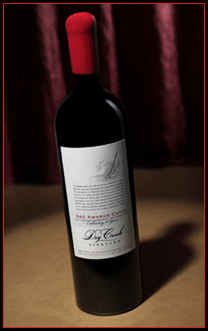 life moves on, and so I need to put my winery marketing hat back on. Please forgive me as I continue on by touting our involvement in this year's SAG Awards show which airs this Saturday, January 23 at 8 p.m. (ET/PT) on TNT and TBS. I'll be leaving tomorrow to pour Dry Creek Vineyard wines for the who's who of Hollywood. This year, guests will have the added pleasure of tasting our 10th Anniversary SAG Awards Cuvée, an exclusive bottling we created to celebrate our 10 years of partnership. It's a one-of-a-kind wine that is available on an extremely limited basis through our tasting room only. Check it out at www.theredcarpetwine.com.
And, pick up a current copy of People magazine if you're at the grocery store tonight. Right there on page 99, in a small caption next to Angelina Jolie's head, is a sentence that sums up a decade of work: "As celebs such as Angelina Jolie and Brad Pitt have done in the past, guests will toast the night with Dry Creek Vineyard wines."
It might not be as meaningful as relief work in Haiti or finding a cure for a deadly disease, but it's my life's work and the passionate pursuit of a whole bunch of dedicated people around here.
welcome!
This is a blog about what it's really like to be in the wine industry...so sit back, take a sip and enjoy!

about me

our wines

our winery

our events

contact me

privacy statement




favorite posts
A Lifetime in Wine
Top 10 Traits of the Successful Family Winery
The Dreaded Family Meeting
Board Meeting Jitters
Is the Future of the Winery in Danger?
The Case of the Overweight Bottle
Wine and Dementia
Wanted: Talented (Normal) Individual for Family Owned Winery
A Sea of Wine
The Heroes of Our Industry
monthly archives
subscribe