Aged to Perfection?
Since today is my birthday, (I'm turning 39...again!) it seems fitting to talk about aging wine. Like humans, all wines age differently. Some remain firm and youthful, holding up well to the rigors of time. Others ar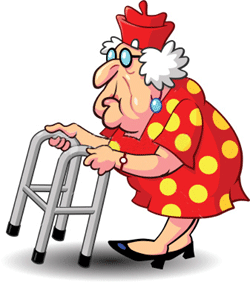 en't so lucky, showing their age much more dramatically with thinning fruit, insipid flavors, and lackluster appeal. A highly subjective topic, this is one of the most frequently asked questions I receive. And while I don't profess to be an expert on the subject, I certainly have my opinions as well as likes and dislikes on the matter.
For many, there's a great deal of mystery to the aging of wine. How do you do it? What conditions do you need? What are the secrets to knowing if a wine will taste better in 3, 5, 7, or even 10+ years? And, why is it that some wines can age gracefully (much like a fine piece of furniture becomes a beautiful antique) and others remind you of speckled carpet and flocked wallpaper—two rather awkward trends that did not stand the test of time.
Before I go on, I have a confession. I've noticed that I'm slowly losing my taste for older wines. Whereas I used to love the intense, smoky, earthiness of a well aged Cabernet, today I find myself gravitating toward more plush, fruit forward, juicier reds, i.e., younger reds that are still bold and pronounced. I'm not sure if there is any correlation with my own slow aging, but I've definitely noticed a change in my preference. Could my taste buds be aging too? Is my palate going downhill?? These are the questions I ponder as I count the candles on my cake today.
Back to the aging of wine…
You must begin with a well made and well balanced wine. Sometimes that is easier said than done, especially with so many oaky, high alcohol monsters out there. Make sure the wine has plenty of acidity too. There should be a subtle crispness to it, even for red wines. A teeny tiny bite at the rear of your mouth, just as you swallow is the general perception. The fruit components (cherries/currants for Cabernet, blackberries/plums for Zinfandel, etc.) should be in harmony with the tannins (the subtle drying sensation that occurs on the sides of your mouth) and overall alcohol content. If you get a burning feeling at the back of your throat, beware. You can bet the wine is quite alcoholic and might not be so well balanced. Or, if you find that any one component jumps out at you (Is the wine screaming with vanilla? That's a sure sign the wine has spent too much time in French oak barrels.) you might be in trouble if long term age ability is your goal.
After balance, the next most important factor is temperature. Ideally, proper cellaring should occur at a constant 55 to 57 degrees. This is generally only possible with a built in cellar or wine storage unit, as few of us are willing to lower our thermostats to achieve this ideal temperature. The more common approach is to pick a cool place in your house (an unused closet, a basement or even an insulated garage) as long as it remains a constant temperature. Keep in mind that temperature fluctuations are worse than a slightly higher overall temperature. If you live in a moderate climate, you will generally be ok with a household cellar. Or, if you are lucky enough to have crawl space under your house as we do, consider storing your wines there. Other than dirt and the occasional mouse poop, this can be a great wine storage area!
Lastly, there's light and sunshine. Just as with us humans, too much is not good. And while you can't slather your prized bottle with SPF 50, you can protect it from overexposure by keeping it in a dark protected place. Otherwise you risk increased oxidation which speeds up the aging process.
Most of the time, I don't recommend aging white wines. The exception is Sauvignon Blanc. Due to its higher acidity, this aromatic white variety can be quite rewarding given a few extra years of aging. (My most memorable aged Sauvignon Blanc came from the 1937 vintage!) The abundant citrus and fresh grass aromas are replaced by what my father calls "the Italian Deli phenomenon"...i.e. Italian spices such as rosemary, basil, and thyme with green and black olives. A rich oily texture makes the wine quite sublime with certain dishes.
The best plan with aging is to buy enough wine to get through the "dumb spells". What I mean by this is buy at least a ½ to 1 case of something you believe to be age worthy so you can crack open a bottle every 6 months or so. Because like humans, wines go through dumb spells. This is when things are out of whack, and just don't seem right. While the wine isn't necessarily "over the hill" it is at an awkward stage of its life. (Anybody have a teenager that fits this description?!) Thankfully, with additional aging the rough spots even out and you are often rewarded with a superb well aged treat. And, if you bought enough to begin with, you'll know exactly when the wine is at its peak.
Ironically, there seem to be some correlations between aging wines and the aging of humans. Both can improve with time. Both need tender loving care. And, both are happiest when shared at the dinner table with loved ones. Which is exactly what I plan to do to celebrate my birthday tonight.
Here's to getting older!!!
welcome!
This is a blog about what it's really like to be in the wine industry...so sit back, take a sip and enjoy!

about me

our wines

our winery

our events

contact me

privacy statement




favorite posts
A Lifetime in Wine
Top 10 Traits of the Successful Family Winery
The Dreaded Family Meeting
Board Meeting Jitters
Is the Future of the Winery in Danger?
The Case of the Overweight Bottle
Wine and Dementia
Wanted: Talented (Normal) Individual for Family Owned Winery
A Sea of Wine
The Heroes of Our Industry
monthly archives
subscribe