Wines to Satisfy Your Inner Leprechaun
Tomorrow is St. Patrick's Day. While I'm not Irish, I've always enjoyed this particular holiday. There's no pressure to buy presents, no unnecessary decorating involved, and no expensive preparations required to celebrate Ireland's Patron Saint. And, as long as you wear a bit of green and appear to be cheery and festive, you are generally safe from the guilt ridden holiday stress that comes with so many of our American holidays. (Besides, it's an excuse to drink!)
But from a wine pairing point of view, it can be rather confusing figuring out what goes best with corned beef and cabbage. First a disclaimer: I actually like corned beef and cabbage. While boiling isn't my fir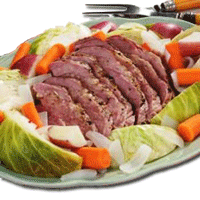 st choice for meal prep, the fact that I can throw a bunch of ingredients into a deep pot of boiling water and end up with a simple but filling meal is appealing. And, who isn't happy with only one pot to clean up afterward?
But wine selection can be awkward. Corned beef is salty and often rather fatty, while the boiled veggies are well, boiled veggies. In other words, they're bland. Choosing a typical red wine with moderate tannins and a good acid structure, like Pinot Noir or Cabernet, is not my first choice. All that salt and acid is way too much. Instead, think opposites, because in this case they really do attract. In other words, what is opposite a salty piece of meat? Something with a hint of sweetness such as an off dry white wine like Riesling or Chenin Blanc. Or, you could go with a Sauvignon Blanc as long as it isn't too aggressive and herbaceous. Think sweet lemons, figs, peaches and floral elements instead of the grassier herbal spectrum. A lovely Rosé would also be very nice. If you're stuck on red wine with meat, try a fruity spicier variety like Zinfandel or Grenache. I would definitely avoid wines with high acid, high alcohol, and big tannins. In other words, no Napa Cabs!
This is your opportunity to experiment, so try something different. Maybe a sparkling Rosé from the Loire Valley? Or, an Alsatian bottling your Great Aunt Gertrude gave you? Of course, if you're a Dry Creek Vineyard fan, our Dry Chenin Blanc, Petite Zin (Rosé of Zinfandel) or Taylor's Vineyard Sauvignon Musqué would do the trick.
If you really want to get in the mood, throw a tiny bit of green food coloring into your glass. Unconventional yes, but a fun way to add a touch O' Irish. (I do this with my kid's milk...why not wine?)
If all else fails, there's always a pint of Guinness. This nutty brown ale is the most traditional beverage of choice which, come to think of it, is probably what those leprechauns prefer to drink anyway!
welcome!
This is a blog about what it's really like to be in the wine industry...so sit back, take a sip and enjoy!

about me

our wines

our winery

our events

contact me

privacy statement




favorite posts
A Lifetime in Wine
Top 10 Traits of the Successful Family Winery
The Dreaded Family Meeting
Board Meeting Jitters
Is the Future of the Winery in Danger?
The Case of the Overweight Bottle
Wine and Dementia
Wanted: Talented (Normal) Individual for Family Owned Winery
A Sea of Wine
The Heroes of Our Industry
monthly archives
subscribe