Discombobulated??
| | |
| --- | --- |
| | |
| Kim- | |
| Re: your most recent blog post…this is what happens when the lines of reality cross. | |
| Jim | |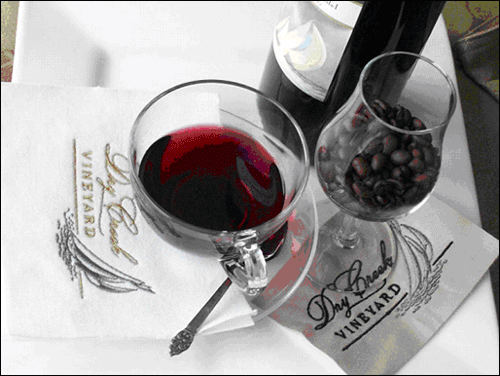 Oh, how true, how true!! A faithful reader, Jim from Ohio, sent this to me, compliments of his friends at Dorothy Lane Market.

It's the perfect segue for today's post because….

I am drowning. When I say drowning I mean swamped, swimming, sinking. And, no amount of coffee can give me enough hours in a day to get it all done. I'm like a duck…above water, I look cool and composed but down below I'm paddling like hell just to keep my head above the surface.

I'm not talking about wine sales. Or, even profits--although improvements could be made in both areas. I'm talking about trying to keep up with the way business is conducted today. Our round the clock, 24/7, electronically connected world has made it impossible for people to catch up, no matter how many hours you throw into the work week. Frankly, it's not the actual work during the "work week" that is the problem. It's the sheer VOLUME of correspondence that accumulates from emails, phone tag, meetings, and follow up meeting to those original meetings--in both work AND personal life-- that creates all the havoc. (Heck, even my mother emails me now.) To top it off, everywhere I look and everything I read indicates that "today's savvy business leaders need to fully embrace all forms of social media, especially Facebook and Twitter as these are vital to connecting with future customers."

You have got to be kidding. Does anyone else out there besides me wonder how this is humanly possible? Clearly, I'm a twirp (an old fashioned term that seems fitting for us twitter resisters!) and if I hear it one more time, I think I'll scream. Or discombobulate, which I've been accused of doing a lot lately, if you ask my kids. Don't get me wrong. I completely agree with the idea of connecting with customers through the use of the internet. It's fast, it's cheap, and for small family companies like ours, it's a great way to communicate with a wide group of people. That is why I started this blog. But I'm not sure it's possible to add Facebook, Twitter, and Lord knows what next to an already full in-box when one wears a hundred different hats—and who doesn't these days?!

And, apparently to do it right it needs to be personal and authentic.

At least that's the message I got from a seminar I attended last week. Put on by the Luxury Marketing Council (yes, I too, saw the irony in their name which is probably why for $50 bucks I decided to make the trek to Napa to pick up some pointers!), this gathering focused on how to grow our tasting room business and attract more visitors to the winery. Or, as one panelist stated: "how to separate the wealthy from their wealth." The panel was impressive. And, on most of their recommendations, I'd give us high marks.

Authentic? Check.

Personalized? Check.

Service oriented? Check.

But, is the owner on Facebook? No and that's where I'm clearly falling short. Luckily, I can delegate this function, which is exactly what I've done to my 30 something marketing assistant. But the pressure is all around me, as is the feeling that I'm NOT KEEPING UP.

While I picked up some good tips, I left the seminar still not sure I want to add Facebook Diva or Twitter Tramp to my list of winery titles. Sure it can help spread "the word" to a new audience. And, it seems to be growing like wild fire. But isn't there a bit of irony to the whole Facebook thing? While everyone agrees that being authentic is important, wineries using Facebook in their marketing are working awfully hard to make sure it doesn't actually LOOK like marketing.

And to me, that's not being very authentic.
welcome!
This is a blog about what it's really like to be in the wine industry...so sit back, take a sip and enjoy!

about me

our wines

our winery

our events

contact me

privacy statement




favorite posts
A Lifetime in Wine
Top 10 Traits of the Successful Family Winery
The Dreaded Family Meeting
Board Meeting Jitters
Is the Future of the Winery in Danger?
The Case of the Overweight Bottle
Wine and Dementia
Wanted: Talented (Normal) Individual for Family Owned Winery
A Sea of Wine
The Heroes of Our Industry
monthly archives
subscribe