92 Points Sure Feels Good
We got some awesome news last week that I don't want to let slip by without yelling a digital yahoo. That's Wilmaspeak for saying "I get to blog about it!"
First, we learned the Wine Spectator rated our 2006 Dry Creek Valley Mariner 92 points. Next we found out we got a 90 point score and "Editor's Choice" from Wine Enthusiast for the 2009 Dry Creek Valley Sauvignon Blanc followed by not one but two "Best Buy" selections for both our flagship Fumé Blanc as well as our Chenin Blanc. It was a good week indeed!
We get our fair share of 90+ratings from an assortment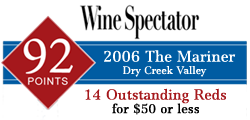 of respected wine critics and publications, but back to back scores like these feels especially satisfying. And the best news of all is we have plenty available for sale! (I guess I inherited that mentality from dear old dad who always used to say his favorite wine was, "the one we have the most to sell!")
You'd have to hear the whole story to understand why I'm smiling.
About 10 years ago, we started getting worried about our future. Wineries were being gobbled up, an influx of wine was becoming available from all over the globe and despite our reputation and decades long loyal following, we sensed we were fading into oblivion. Dry who? It was time to make some big changes. Besides, when you have two first born A-type personalities taking over a family business, you can't be satisfied with the status quo.
So we began the daunting task of reinventing ourselves. It was sort of like a winery makeover. We took a hard look at every aspect of the company, from vineyards, winemaking, and production to sales, marketing, and internal operations, just about everything--you name it. It wasn't that anything in particular was "broken"; we just knew we needed to become more distinctive and more focused to fulfill our dream of making wines that command respect. We sold vineyards, planted vineyards, cut production, hired talent, sourced new coopers, installed new equipment, changed our product mix, etc. Along the process, we told the staff "we are taking the winery to new heights. It's going to require hard work and sacrifice. And we know it won't be easy. But if you're on board, we want you. If not, it's ok to leave. It'll take some time but the rewards will be great and our future success and longevity will be assured."
Despite 9/11, two recessions, family squabbles, countless setbacks, and many a worrisome night, it feels like we're finally getting our just rewards.
Thank you believers of Dry Creek. Thank you and watch out! The best is yet to come.
welcome!
This is a blog about what it's really like to be in the wine industry...so sit back, take a sip and enjoy!

about me

our wines

our winery

our events

contact me

privacy statement




favorite posts
A Lifetime in Wine
Top 10 Traits of the Successful Family Winery
The Dreaded Family Meeting
Board Meeting Jitters
Is the Future of the Winery in Danger?
The Case of the Overweight Bottle
Wine and Dementia
Wanted: Talented (Normal) Individual for Family Owned Winery
A Sea of Wine
The Heroes of Our Industry
monthly archives
subscribe