Are We Headed For Even Bigger Problems?
As if we didn't have enough to worry about...we can now add water to our list. Generally, I'm not one to comment on the political shortcomings of our state, but this is just too important to keep quiet.
Yesterday afternoon, The Husband attended yet another meeting of local farmers at neighboring Rued Winery. The subject was water rights and more specifically how the Golden State wants to take away the rights of private land owners to the access of water located on their property. At first glance, this would appear to be a rather dull subject and one we've all heard bantered about for years. Oh yea that, do we have to talk about that again?
But hearing firsthand about the latest crap the state is trying to pull over our eyes has me concerned. And, I already have enough worries to last me a good long while.
Let me paint a picture for you.
Basic water rights are a fundamental human right—right up there next to enjoying ice cream and driving around looking cool when you're a teenager. If you live in a municipality like the town of Healdsburg or the County of Sonoma, you get your water through the city utility commission. Your usage is monitored, and you pay a monthly fee for the service they provide which is chlorinated but clean drinking water that is readily available and on demand 24/7. In a drought situation, they might clamp down on irrigation, but generally water is available.
If you live in the country and are a property owner outside of a municipality, like most grape growers and winery folks are, your water comes directly off your own property via ground water wells. You buy your land (very expensive), you dig a well ($$$), you service your well (more $$$), you irrigate your crops, you get your drinking water, etc. (Sometimes you even have no water like when a mouse crawls into the well's breaker box and wreaks havoc. True story, it happened just last week!)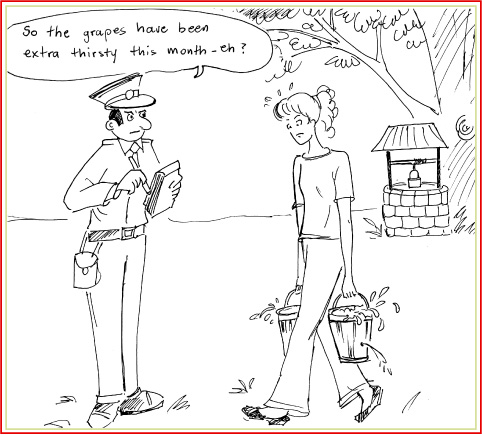 Under new pending rules, all this would change. Every agricultural well or pump in Sonoma County would be required by law to have a water meter on it. The cost at the basic level is $10,000 per well. Farmers would then be required to report their usage to the state on a monthly basis, which adds more costs. If you don't comply, you get fined. If you report it incorrectly, you get fined. And a whole new generation of law enforcement officials or "water cops" will be out there enforcing the rules making sure farmers are verifying and recording their usage correctly. Hmmm, seems to me the cops have a lot more important things to do……………
The whole subject is so complex and convoluted that it would take a month's worth of research and blog posts to explain in full detail. What's important to know is that the state wants to control ground water and by doing this will control the value of ag property. (A farm without water is a future subdivision.) They are making it harder and harder for farmers to survive, squeezing them tighter and tighter by adding new costs, regulation and water restrictions. It's an infringement on landowner rights and adds unnecessary costs to the business of farming, which already operates on pathetically thin margins. It is downright wrong. But ultimately the public will pay, especially when the farmers are gone and grocery store shelves are bare.
welcome!
This is a blog about what it's really like to be in the wine industry...so sit back, take a sip and enjoy!

about me

our wines

our winery

our events

contact me

privacy statement




favorite posts
A Lifetime in Wine
Top 10 Traits of the Successful Family Winery
The Dreaded Family Meeting
Board Meeting Jitters
Is the Future of the Winery in Danger?
The Case of the Overweight Bottle
Wine and Dementia
Wanted: Talented (Normal) Individual for Family Owned Winery
A Sea of Wine
The Heroes of Our Industry
monthly archives
subscribe