Another Busy Weekend in Wine Country
Sometimes it seems like the weekends are even busier than weekdays around here. This is never more true than during harvest which by its very nature attracts a variety of people and events to our beautiful area.
First up is the annual Bike MS Waves to Wine cycling race that starts at the Golden Gate Bridge, winds up the Hwy 101, meanders past the entrance to Dry Creek Vineyard and ends up at the northern end of the Dry Creek Valley at Lake Sonoma. This is our 5th year as official wine sponsor and I like to think that pouring wines for all those sweaty cyclists is somehow helping to contribute to a cure for this nasty disease. (My sister developed Multiple Sclerosis in 2003, so I know first-hand how debilitating MS can be.)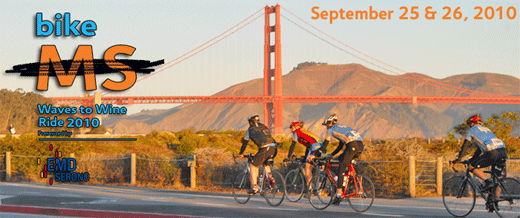 Every year I say I'm going to form a team for the event. We'll train, and train, and train 'til we're up for the 100 mile two day ride. Sadly, there is no Team Dry Creek this year, (and I still have those nasty 10 lbs on my derrière) but a number of us will be there in spirit as we pour our wines for the incoming riders as they cross the finish line. We'll also be greeting riders as they stop by our winery on Sunday, which is one of the designated rest stops along the route. It's quite an undertaking really, 2000 riders from all over the world all pedaling as fast as they can in support of a good cause. Good luck riders, may the winds be with you and the cars on the road not!
If you're planning to participate, thank you. If not, and you'd like to make a small donation anyway, please visit their website at http://bikecan.nationalmssociety.org.

| | | |
| --- | --- | --- |
| If you're a music lover, be sure to stop by the winery this Saturday afternoon from 1:00-4:00. We'll be featuring the jazzy tunes of local musician Shea Breaux Wells and her band and serving up some of our tastiest releases. Admission is complimentary for all wine lovers! For more details, view the flyer for our Last of Summer Event. | | |

This weekend is also the annual Awards Night of the Sonoma County Harvest Fair. In its 36th year, the Harvest Fair celebrates all things agriculture from the Sonoma County region. It's chock full of wines and producers you've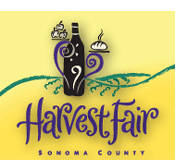 never heard of and a great place to schmooze with industry personalities while filling your tummy with award winning delectables. Two years ago we won the Sweepstakes Award for our 2008 Fumé Blanc which was quite a coup with over 1000 wines to choose from. The chances of that happening again are rather slim…but I'll be there with my fingers and toes crossed that the stars align and the judges agree, our wines rock and deserve top honors!
For tickets and information visit http://www.harvestfair.org.
Whew… I'll need to go back to work on Monday just to rest up!
welcome!
This is a blog about what it's really like to be in the wine industry...so sit back, take a sip and enjoy!

about me

our wines

our winery

our events

contact me

privacy statement




favorite posts
A Lifetime in Wine
Top 10 Traits of the Successful Family Winery
The Dreaded Family Meeting
Board Meeting Jitters
Is the Future of the Winery in Danger?
The Case of the Overweight Bottle
Wine and Dementia
Wanted: Talented (Normal) Individual for Family Owned Winery
A Sea of Wine
The Heroes of Our Industry
monthly archives
subscribe