Chardonnay Reborn
One of the wines we're all excited about around here is our new Foggy Oaks Chardonnay. It comes from our estate Russian River vineyard, and is aptly named after the 3 majestic oak trees that proudly stand in the middle.
We developed the vineyard in 1999. A lengthy search for appropriate vineyard land led The Husband (aka Dirt Guy of Dry Creek) to the site—a 30 acre parcel heavily influenced by the Pacific Ocean and cooling layers of fog that gently roll in each afternoon/evening. Numerous clones (#4, #96 are two favorites) were planted in an effort to provide subtle differences in the flavor/profile so our Chardonnay would be more multidimensional than we'd had in the past. Whole cluster pressing, hand sorting the fruit, and a new approach to our barrel aging, complete the wine. We also dramatically cut the production, (which was hard to sell the bean counters on), and quality has sky rocketed.
If we were starting the winery today, I doubt we'd even make Chardonnay. In a way, it just doesn't make sense for a winery located in Dry Creek Valley to be investing so heavily in Russian River Valley. But invest we did, and the fruits of our labors are quite deliciously bottled up in this limited new release.
Style wise, this is a true Chardonnay lover's wine. The fruit tones are exquisite, with hints of Asian pear, Fuji apple and baked pineapple.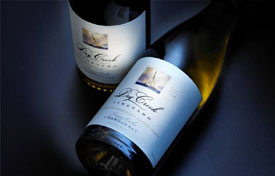 Exotic spices subtly dance across the palate. The finish is long and lovely without all of the heavy handed use of oak so overly common in California Chardonnays nowadays. Even for a dyed in the wool Sauvignon Blanc aficionado like me, I've fallen in love with this wine and am proud of its quality. Please ask for it in stores and restaurants near you. Or, if you're so inclined, call the winery or visit www.drycreekwinery.com/Shop_for_Dry_Creek_Wines and we'll gladly sell you a bottle (or case!) or two. You might also enjoy reading the first review by blogger Gabe Sasso on www.drinkdrycreek.com.
As far as what to drink it with, here are some of Wilma's pairing suggestions:

A long lost lover
A spouse of umpteen years
A boss who gave you a promotion
A teacher who is making a difference
A coach who is dedicated to more than just winning
A real estate agent who found your dream house
A contractor who completed the work on time and on budget
Anybody in your life whom you love, appreciate or just want to extend a warm thank you. (And there's always just you…………the most important person to appreciate of all!)
welcome!
This is a blog about what it's really like to be in the wine industry...so sit back, take a sip and enjoy!

about me

our wines

our winery

our events

contact me

privacy statement




favorite posts
A Lifetime in Wine
Top 10 Traits of the Successful Family Winery
The Dreaded Family Meeting
Board Meeting Jitters
Is the Future of the Winery in Danger?
The Case of the Overweight Bottle
Wine and Dementia
Wanted: Talented (Normal) Individual for Family Owned Winery
A Sea of Wine
The Heroes of Our Industry
monthly archives
subscribe