Can I Do This?
In my five years at Dry Creek Vineyard, I always worked behind a desk. My first job was as the receptionist. Over time, I took on more responsibility and now have the important task of looking after our valued wine club members. I also work at most of our events, greeting guests with a friendly hello and sharing our incredible wines. Recently, I was asked if I would like to work one day a week in the tasting room. My first thought was "Can I do this?"
A month has gone by and I have to admit I am having a lot of fun. My time in the tasting room has given me a chance to talk about our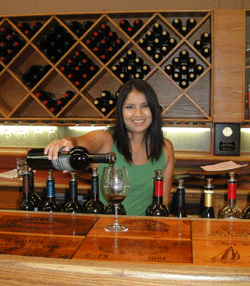 wines and to tell our story. Most importantly, it has given me an opportunity to meet our club members face to face. If I'm not doing a private tour and tasting, I'm pouring our wines and enjoying conversation with the many people who visit us. It has been fun meeting new and long time club members. I now realize how important personal connections truly are.
This has been a great change. I have learned a lot from the tasting room staff and I enjoy seeing the many faces from all over the country come through those doors.
If you find yourself in the winery on a Friday, you will almost certainly see my smiling face.

welcome!
This is a blog about what it's really like to be in the wine industry...so sit back, take a sip and enjoy!

about me

our wines

our winery

our events

contact me

privacy statement




favorite posts
A Lifetime in Wine
Top 10 Traits of the Successful Family Winery
The Dreaded Family Meeting
Board Meeting Jitters
Is the Future of the Winery in Danger?
The Case of the Overweight Bottle
Wine and Dementia
Wanted: Talented (Normal) Individual for Family Owned Winery
A Sea of Wine
The Heroes of Our Industry
monthly archives
subscribe