Where's Wilma???
I've been halfway around the world and back. Literally. On October 7,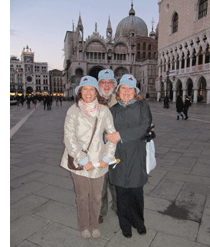 I left for Rome, to meet up with roughly 30 Dry Creek Vineyard wine club members for a cruise along the Italian and Croatian coastlines. I had crossed my t's and dotted my i's to make sure that I could in good conscience go on this "business" (albeit monkey) trip. By the time I ended up in Europe, my neck was so knotted up and I had such a raging headache that I thought I would explode. Furthermore, The Husband and I were barely speaking to each other. Great I thought. Just what I need, to be stuck with my business partner bobbing up and down in the Mediterranean pretending to be all happy happy and nicey nicey while we attempt to be the consummate wine country hosts. Thankfully, the time away and beauty of our surroundings quickly removed any stress and strain we had brought with us from home. And, we quickly settled back into our happily married selves.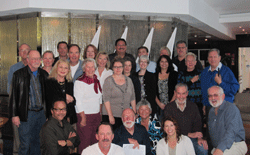 We met up with fellow club members at our designated gathering spot near the Coliseum. There's something surreal about this corner of the world, where gladiators dueled, Romans conquered and the crossroads of civilization existed for so many ancient cultures. But, I was feeling anxious. What if no one got along? What if they turned out to be a bunch of dweebs? What if we had an incessant complainer in the group?? Happily, none of these nasty thoughts came true as we boarded the transfer bus that took us to our beautiful sailing ship, the Windstar.
This is the third time we've hosted a wine cruise.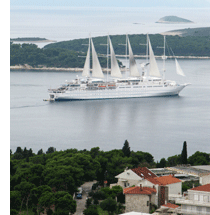 Admittedly, it's a fantastic excuse for a vacation but it also serves as a great way to build loyalty, get to know our customers and break bread with new friends. It didn't take long for us all to relax and enjoy each other's company. We were a diverse assortment of individuals from all over the country, bound together by a love of Dry Creek wines and an adventuresome spirit. It doesn't get much better than that, now does it?
In the preceding days, we continued to bond, enjoying the most amazing scenery and romantic ports of call. By day, we were all about sightseeing, covering as much ground as we could. By night, we wined and dined, drinking single vineyard wines that we had shipped in to accompany our dinners. (18 cases in all!)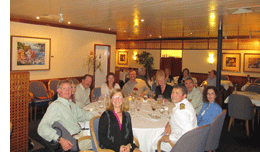 I have never enjoyed myself more thoroughly.
Our itinerary covered the ports of Capri , Taormina/Sicily, Dubrovnik, Montenegro, the Croatian island of Hvar, and Venice. It's hard to single out what was best; we had so many incredible experiences together:
Sipping Cabernet at midnight while watching Stromboli spew its molten lava every 20 minutes precisely like clockwork. Truly magical. Strolling the streets of Kotor, the ancient seaside city of Montenegro, learning about the complex and colorful history of this "fairy tale"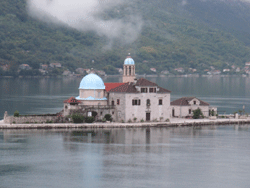 city. Discovering the forgotten way of life on Hvar, one of the prettiest islands I've visited with its hand terraced slopes of lavender and vineyards. Visiting a small winery in Croatia, learning about the simple yet endearing wines these vintners have produced for centuries. Note: after tasting Plavits Malie for the umpteenth time, I'm still not convinced it's at all related to Zinfandel.
There are just too many memories to share them all. All I can say is if you're looking for a great vacation idea, please join us on a future trip. We've already been asked to host another in 2011 and are looking into a couple of possible itineraries. The Greek Isles and Istanbul are possibilities as is Tahiti. (Stay tuned...)
As with all great vacations, those first days back are when you try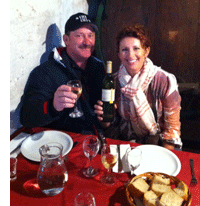 desperately to hang on to that vacation glow. I'm still clinging to it. Especially now that I'm sitting at the airport waiting for my plane to depart for New York—for my last business trip of the year-hooray!
But this time I feel different. I feel happy. I feel refreshed. I feel full of gratitude for the many travel companions and loyal customers who I can now call friends.
Hopefully I'll discover more of the same in the Big Apple!
welcome!
This is a blog about what it's really like to be in the wine industry...so sit back, take a sip and enjoy!

about me

our wines

our winery

our events

contact me

privacy statement




favorite posts
A Lifetime in Wine
Top 10 Traits of the Successful Family Winery
The Dreaded Family Meeting
Board Meeting Jitters
Is the Future of the Winery in Danger?
The Case of the Overweight Bottle
Wine and Dementia
Wanted: Talented (Normal) Individual for Family Owned Winery
A Sea of Wine
The Heroes of Our Industry
monthly archives
subscribe