'Twas the Night Before Christmas
'Twas the night before Christmas, and all through Dry Creek,
Not a creature was stirring, not a sound or a peep,
The barrels were topped, the wines aging well,
Waiting to be bottled, from the vintage from hell,
The cellar rats were resting, all done for the year,
Waiting for Santa and his eight tiny reindeer,
While Mama and The Husband breathed a sigh of relief,
That the year was soon over, thank God and good grief,
Wine sales were done, the bills due and paid,
And managers rejoiced as their nerves felt less frayed,
Their teamwork impressive, their efforts so great,
Because all the hard work, had helped seal their fate,
Now they could rest, put their feet up, kick back,
Enjoying time off and a long winter's nap,
As they prepare for what's next, in the coming New Year,
And celebrate the season, with plenty of good cheer,
When out on the lawn, there arose such a clatter,
That the neighbors all wondered what was the matter,
Was it Him, was it He, was it the Big Man Himself?
Or was it just Dave, our jolly old Elf?
Checking things out, making sure all was good,
That the lights were turned off, just as they should,
When out of the blue, up on the roof,
He heard scratching and pawing of each tiny hoof,
And suddenly what should appear on the lawn,
Than Santa himself, suppressing a yawn,
So tired was he, from delivering those toys,
To sweet little girls, and good little boys,
What he needed was clear, not a cookie or carrot,
But instead to sit down, with a glass of great Claret,
He was lucky indeed, to have come to a place,
Where he could find such treat, and slow down his fast pace,
So he pulled up a chair, and sat by the fire,
Loosening his load, lightening up his attire,
And toasted the world, in the dim evening's light,
Merry Christmas to All and To All a Good Night!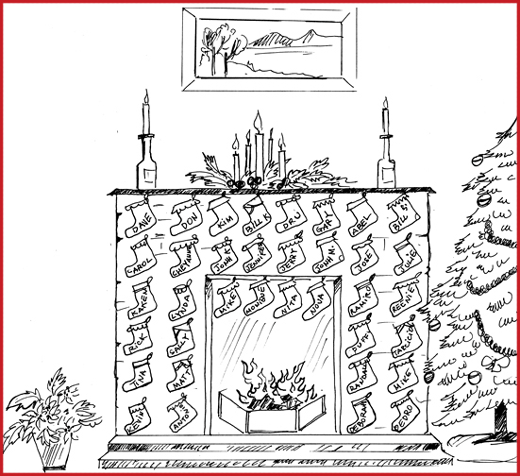 welcome!
This is a blog about what it's really like to be in the wine industry...so sit back, take a sip and enjoy!

about me

our wines

our winery

our events

contact me

privacy statement




favorite posts
A Lifetime in Wine
Top 10 Traits of the Successful Family Winery
The Dreaded Family Meeting
Board Meeting Jitters
Is the Future of the Winery in Danger?
The Case of the Overweight Bottle
Wine and Dementia
Wanted: Talented (Normal) Individual for Family Owned Winery
A Sea of Wine
The Heroes of Our Industry
monthly archives
subscribe