For Those of You Who Missed It
Saturday night was one of those nights I felt especially grateful to be in the wine business. I was surrounded by friends and fans that came from far and near in pursuit of fun, a delicious meal, some darn good wines, and lots of laughs. The occasion? Our annual wine club Holiday Winemaker Dinner held each year at Charlie Palmer's Dry Creek Kitchen.
The evening started out with light appetizers and a wine reception. After 30 minutes or so, we meandered over to our tables, festively decorated by our in house Martha Stewart, Miss Reenie Donahue. Reenie was in rare form, elegantly sashaying throughout the crowd telling stories and introducing those who didn't already know each other. Winemaker Bill Knuttel was on hand and did a great job recapping the wacky harvest of 2010 while sharing his personal philosophy on winemaking. I played the role of Wilma the Wine Diva which is a cross between Hostess, Cheerleader and Debate Team Coach, with a little bit of Sarcastic Wine Wench thrown in for good measure. The Husband shared his own take on things, and at one point, gave a very heartwarming speech on the tremendous gratitude and appreciation we have for our wine club members who are so dearly loyal to the brand. Frankly, I thought he might shed a tear, but then I realized he was just having one of those "I've had umpteen glasses of wine, I'm feeling pretty good, and my emotions are a little tender tonight" kind of moments. (Don't lie, I know you've had them too!) But it was so sweet that I immediately forgave him for stealing my thunder in the opening remarks.
(Alas, the ongoing challenge of a husband and wife sharing the limelight!)
In some ways it was like a reunion of our October wine cruise, as four of the couples had also gone on our magnificent trip to Italy and Croatia. It was especially heartwarming to learn that several of these folks had already gotten together on their own-just to spend time together. I felt really good about that—knowing that our wines and our company had played a role in forming new and lasting friendships.
I've been thinking about that a lot, especially during this incredibly busy and stressful time of year. (I happen to be in the BAH HUMBUG camp, where the notion of holiday decorating, shopping, and gift giving on top of everything else in life is very challenging.)
So honestly, just before the dinner, I found myself dreading the idea of getting all dressed up, being charming, and having to entertain our customers. But then it happened. That amazing moment that never ceases to amaze me--when complete strangers become the best of friends over sharing a glass (or two, or three) of delicious wine together. It's that magical connection of wine, food and camaraderie that bonds us together, and it's been going on for centuries the world over. And, it nearly always brings me back into focus on what's important in my life; family, friends, loved ones, and in this case, customers and fans who've become a part of our very special Dry Creek Vineyard family. Thank you everybody!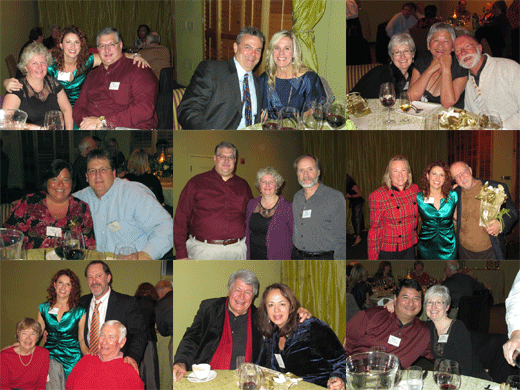 welcome!
This is a blog about what it's really like to be in the wine industry...so sit back, take a sip and enjoy!

about me

our wines

our winery

our events

contact me

privacy statement




favorite posts
A Lifetime in Wine
Top 10 Traits of the Successful Family Winery
The Dreaded Family Meeting
Board Meeting Jitters
Is the Future of the Winery in Danger?
The Case of the Overweight Bottle
Wine and Dementia
Wanted: Talented (Normal) Individual for Family Owned Winery
A Sea of Wine
The Heroes of Our Industry
monthly archives
subscribe