National Sales Meetings This Week
I finally put away my suitcase last night. After umpteen trips in 2010, it was finally time to stow the battered old thing away until next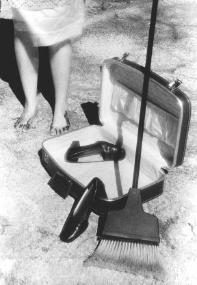 year's sales and marketing travel kicks back in.
That is just one of many items we'll be discussing at our national sales meetings today. Each year we have our small but talented team of regional sales managers out to the winery for a series of meetings and planning sessions focused on our wholesale sales. We review our business territory by territory, discussing the pros and cons of each distributor, overall market conditions, and the winery's goals and objectives. We give ourselves a pat on the back and convey our deepest appreciation for a job well done. This year, we'll exhale a collective sigh of relief. After all, we just survived the worst conditions for wine sales since the Great Depression.
These can be painful meetings. Sometimes they are peppered with thoughts and suggestions that are hard to swallow. Other times, there's an abundance of creative dialogue that contributes to out of the box thinking and successful strategies for the coming year. (I'm keeping my fingers crossed that there's more of the latter than the former this year.)
More often than not, we are told we need to lower prices in order to sell more wine. After all, they're salespeople! And we, knowing the fiscal realities of running a winery and being responsible for the livelihood of some 35 plus employees, sit there wondering how we're going to make it all happen. But somehow, we always do. One thing we never budge on is wine quality. No matter what, we simply won't compromise on this one bit.
This year I'll be unveiling our new Fumé Blanc package which I'm pretty excited about. You might recall that not too long ago, (view my post - http://www.wilmaswineworld.com/2008/03/to-fume-or-not-to-fume-that-is.html) there was a lot of grumbling about the name Fumé Blanc. Never mind that it's the flagship wine that put us on the map. Or, that we were the first in Sonoma County to introduce a crisp dry California version of the great Pouilly Fumé's. The majority of our sales team felt we should discontinue it altogether. "Old Fashioned." "Confusing." "A Dying Category." That's when I exercised my veto power, feeling strongly that killing off Fumé was a bit like GMC discontinuing the half ton pickup. Thank goodness everyone listened as this is now one of our bestselling wines.
One thing we know for sure is the paradigm is shifting. Just like every other aspect of our business, we are always looking at ways to improve. If we do it right, maybe, just maybe, I might be able to keep the old suitcase stowed away for a little while. If not, well...
I don't want to think about that right now.
Note: As an alternative to Fumé Blanc, we also produce a 100% Dry Creek Valley Sauvignon Blanc to showcase the subtle nuances of our home region. With a dash of Sauvignon Musqué in the blend, this wine is altogether different than our traditional Sonoma County Fumé Blanc, yet celebrates the intrinsically refreshing flavors of my favorite white wine variety.
welcome!
This is a blog about what it's really like to be in the wine industry...so sit back, take a sip and enjoy!

about me

our wines

our winery

our events

contact me

privacy statement




favorite posts
A Lifetime in Wine
Top 10 Traits of the Successful Family Winery
The Dreaded Family Meeting
Board Meeting Jitters
Is the Future of the Winery in Danger?
The Case of the Overweight Bottle
Wine and Dementia
Wanted: Talented (Normal) Individual for Family Owned Winery
A Sea of Wine
The Heroes of Our Industry
monthly archives
subscribe