Making Time for a Blog
I am having a love/hate relationship with this blog right now. One moment, I'm compelled to write, waking up in the middle of the night simply overwhelmed with ideas. Then other times, I'm too pooped to even think about it and I wish it would just go away. As anyone who is serious about blogging knows, it truly is a major commitment that can be a royal pain in the arse. Are there sound business decisions for blogging? Not really. Does the time invested pay off in increased sales or revenues? No. Does it add value to the bottom line? Impossible to say. The next logical question then is, WHY DO IT?
Here's why. Every now and again I get an email or meet a customer who raves about this blog. They tell me how much they enjoy reading my prose (if you can call it that) and how they look forward to my posts. They tell me how I brighten their day, make them laugh, or simply shed new light on their interest in wine and their infatuation with the wine business. Here's a sampling of just a few of the comments I've received:
"I just love your blog. Every time I get an email saying there's a new post, I stop everything to read it...because I know it will make me smile and feel good."
"I've learned so much from your blog. It's one of the few that I read consistently."
"Keep up the good work Wilma. Your blog is a pleasure to read."
Wow.
There aren't too many things in life as rewarding as making other people happy. And as anyone knows, when you're the boss and you work in a family business to boot, you RARELY get a pat on the back, let alone any sort of recognition from the powers that be.
In fact, to be perfectly honest, it's usually the opposite.
Which is why I keep blogging. Because it feels good to be recognized by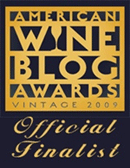 complete strangers for the effort, passion and time I put into my work.
Right now, I'm on a mission to get my 52 posts in before the end of the year. That's so I can submit Wilma's Wine World into the 2011 Wine Blog Awards competition. Last year I was shy a few posts, and didn't qualify. This year, come hell or high water, I'm doing it.
So, please keep the "warm fuzzies" coming! I need all the motivation and inspiration I can get.
welcome!
This is a blog about what it's really like to be in the wine industry...so sit back, take a sip and enjoy!

about me

our wines

our winery

our events

contact me

privacy statement




favorite posts
A Lifetime in Wine
Top 10 Traits of the Successful Family Winery
The Dreaded Family Meeting
Board Meeting Jitters
Is the Future of the Winery in Danger?
The Case of the Overweight Bottle
Wine and Dementia
Wanted: Talented (Normal) Individual for Family Owned Winery
A Sea of Wine
The Heroes of Our Industry
monthly archives
subscribe