Wilma Grows Up
Today marks the beginning of my 4th year as a blog writer. When I started Wilma's Wine World, I never imagined the direction it would take, nor the impact it would have. Back then, I questioned my voice. I questioned my ability to write in a meaningful way. And, I questioned whether or not anyone would really give a damn. Today, I have over 15,000 visits per month, scores of loyal fans regularly email me and comment on my posts, and more importantly, I've found an outlet to recount in an honest and straightforward way, the trials, tribulations, and tales of a lifetime spent in the wine industry. I've debunked myths (no we aren't all pinky waving trust fund kids like some would think!) and I've probably told more than I should about our business and the wine industry at large...but then again, I've never been one to mince words or misrepresent myself.
It all started over lunch and a glass of wine with Jim Laube. As I passionately shared my vision for the kinds of wines he could expect to see from us, my excitement mounted...and so did his. I told him about our struggles as a family (not all, of course) and our vision for bringing the winery to an entirely new place in the world of wine. I talked about my pride in my father's accomplishments as well as my vision for where my husband and I would take the business. I talked about the people we would hire. I talked about the vineyards we would plant. I talked about the shift in mentality that we were slowly but surely shaping from within our organization as we reinvented ourselves for the future. We then tasted our newest releases, reflective of the many shifts we had made since taking over the business: drastically reduced production, enhanced winemaking techniques, appellation driven wines, a focus on 100% Dry Creek Valley fruit, new barrel programs, new winemaking equipment, new packaging, etc. As our lunch progressed, I found myself also telling him about how difficult it is to do all this while keeping family harmony. (Generational transitions are never easy, hence the pitifully low success rate in this country.) I recounted the joys, the struggles, the frustrations, and the enormous amount of resiliency it takes to be able to go home at the end of the day and say "I love you" to the person or people who just drove you crazy at work. I told him how far we had come, and how far we were going, no matter what, no matter how long it would take. And, that's when he said, "You need a blog."
Huh?
So it was with that advice that I embarked on my "blogdom".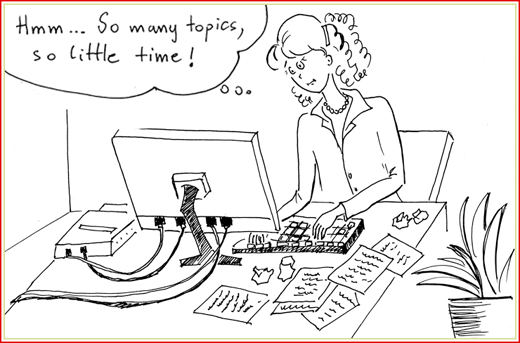 158 posts later, I am still blogging. My voice has been "found," and I'm even contemplating a book. It might take a while… but someday I just might make it happen! In the meantime, I will continue to plow along one post at a time…brainstorming for topics, editing my writing so I don't piss off too many people (think of the subjects I haven't yet covered… why do winemakers think they're God? How come distributors say one thing yet do another? And one that continually eats away at me… who made wine buyers so big for their britches???)
As I ponder these subjects, along with many others swirling around in my curly haired head, I'm reminded of the words of the late great Erma Bombeck:
"If you can't make it better, you can laugh at it."
And that, my friends, is the real ticket to success in the wine industry.
welcome!
This is a blog about what it's really like to be in the wine industry...so sit back, take a sip and enjoy!

about me

our wines

our winery

our events

contact me

privacy statement




favorite posts
A Lifetime in Wine
Top 10 Traits of the Successful Family Winery
The Dreaded Family Meeting
Board Meeting Jitters
Is the Future of the Winery in Danger?
The Case of the Overweight Bottle
Wine and Dementia
Wanted: Talented (Normal) Individual for Family Owned Winery
A Sea of Wine
The Heroes of Our Industry
monthly archives
subscribe