The Vineyards Wake Up
The vineyards are bursting with life right now. You can practically feel it. I know that sounds weird but it's true; there's a feeling of growth and renewal in the valley that signals another growing season beginning in the vineyards.

Last weekend I took a drive through neighboring Alexander Valley. It was pretty amazing how much more advanced the shoot growth was over there. Of course Alexander Valley is a few degrees warmer than Dry Creek Valley so this makes perfect sense. This is the time of year when you can also plainly see which varieties mature quicker than others. For example, here are two vineyards that line either side of my driveway. The one on the right is Chardonnay. Notice the larger more developed leaves. That's because bud break occurs earlier than the vineyard on the left which is planted to Zinfandel, generally a later ripening variety.
The gnarly older Zinfandel vineyards are my favorite. Their twisted dark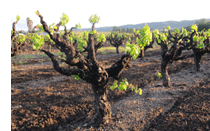 trunks and artistic sculptural form are particularly beautiful right now. I love to think about the history that these old vines have witnessed. Just think, they've survived earthquakes, wars, depressions, recessions... you name it.
This is the time of year that replanting also takes place. In our case, we are embarking on a major replant of our historic and famed DCV 3 Sauvignon Blanc vineyard. I say historic because it was the first new vineyard planted after Prohibition AND it was the first Sauvignon Blanc vineyard planted in northern Sonoma County. I say famed because it was selected "One of the Top 40 Vineyards in America" by wine critic Paul Lukacs in his 2005 book, The Great Wines of America. As soon as the ground dries out, we'll start to prepare the soil for planting. We've selected 3 Sauvignon Blanc selections to add to our palate of flavors: Sauvignon Musqué, Sauvignon Gris, and Clone#378.
As Easter approaches, it's important to take time to smell the roses... or as we say around here, observe the grapevines! If you're in the area, be sure to stop by and say hi.
P.S. Next weekend (April 30/May 1) is Passport to Dry Creek Valley. Be sure to visit our Jimmy Buffett Tribute. We promise you'll be swaying to the ocean breezes in our cellar and jammin' to the music of The Parrotheads.
welcome!
This is a blog about what it's really like to be in the wine industry...so sit back, take a sip and enjoy!

about me

our wines

our winery

our events

contact me

privacy statement




favorite posts
A Lifetime in Wine
Top 10 Traits of the Successful Family Winery
The Dreaded Family Meeting
Board Meeting Jitters
Is the Future of the Winery in Danger?
The Case of the Overweight Bottle
Wine and Dementia
Wanted: Talented (Normal) Individual for Family Owned Winery
A Sea of Wine
The Heroes of Our Industry
monthly archives
subscribe