Please Nominate Me!
This is my 164th post. Throughout my 4+ year journey of writing a blog, I've been blessed with the most wonderful and supportive readers...you!! Now it's time for me to ask a favor. If you're a fan of Wilma's Wine World, please click this link to visit the 2011 Wine Blog Awards web site and nominate my blog. The nomination period lasts one week and ends on May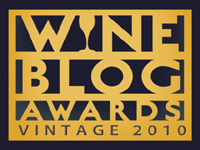 31, 2011. The categories include:
Best Overall Wine Blog
Best New Wine Blog
Best Writing on a Wine Blog
Best Winery Blog
Best Single Subject Wine Blog
Best Wine Reviews on a Wine Blog
Best Industry/Business Wine Blog
Best Wine Blog Graphics, Photography and Presentation
I'm not very good at asking for help. Nor am I one to beg, plead, cajole, or beseech. I am however, humbly asking for your help to get Wilma out there in nomination land. I'm not the most techie of blogger types, nor am I as active in the blogosphere as some of my fellow wine bloggers. What I am however, is totally committed and passionate about sharing the ups, downs, successes, failures, trials, and tribulations of a lifetime spent in a family wine business. Sometimes I find myself brimming with story ideas and can hardly wait to share them with you. Then I remember, oh yea, that might piss off The Husband, The Father, The Staff, The Distributors, The Customers, The Bank, The Kids, and the myriad of other people/entities I interact with on a daily basis. Other times, Wilma is simply too busy, tired, or overwhelmed to find time to write. In the end, it's my desire to entertain, educate, shed light and inform that keeps me going. (That, and my extreme sense of guilt!)
Thanking you in advance, I remain your dedicated wine blogger…Wilma.
welcome!
This is a blog about what it's really like to be in the wine industry...so sit back, take a sip and enjoy!

about me

our wines

our winery

our events

contact me

privacy statement




favorite posts
A Lifetime in Wine
Top 10 Traits of the Successful Family Winery
The Dreaded Family Meeting
Board Meeting Jitters
Is the Future of the Winery in Danger?
The Case of the Overweight Bottle
Wine and Dementia
Wanted: Talented (Normal) Individual for Family Owned Winery
A Sea of Wine
The Heroes of Our Industry
monthly archives
subscribe