Debt, Wine, Music and Fun!
Sometimes it pays to be in debt. Up to your eyeballs. For a really long period of time.
No, I'm not talking about Greece. I'm talking about being a preferred banking client of a major lending institution. As you might surmise, running a winery, owning vineyards, and producing, selling and marketing wine is a highly capital intensive business. It takes several years before the product we produce can "go to market" and several more before the inventory cycle completes a full turn. Most wineries operate with a revolving line of credit to offset operating expenses that cash flow doesn't easily cover as well as provide working capital for some of the more cash intensive aspects of the business, i.e., replanting vineyards, buying barrels and equipment, etc.
As part of our "We're Going to Kick the Recession in the Pants Plan", also known "We Will Leave No Stone Unturned To Get Ahead Plan," we recently completed a major refinance of the winery's long term debt structure to take advantage of lower interest rates and preferred lending packages. It was a highly labor intensive and time consuming project that made our normally calm and mild mannered CFO Dru, unusually stressed out and anxious. But his diligence and hard work paid off and we are happy to have a wonderful new banking partner, Union Bank.
Here's where the fun part comes in. As a "preferred" banking client (i.e. someone who is up to their eyeballs in debt!) we were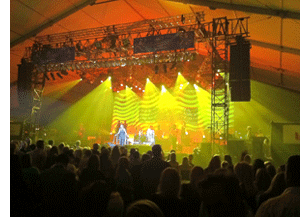 invited by Union Bank to see Sheryl Crow perform live at the Sonoma Valley Jazz+ Festival this past weekend.
Can I just say right now, there's a reason Sheryl is a rock star. She is quite simply, A ROCK STAR! As a breast cancer survivor and single mother, she's already got Diva written all over her face. Add to that, the fact that she's an amazing singer, songwriter, and musician playing a multitude of instruments throughout her set, and you can imagine how powerful and soulful her music is when enjoyed in person. I felt mighty lucky to be so close to such a legendary female rocker and had a fabulous time reliving my younger days as a wannabe rock star myself. (I actually never wanted to be a rock star, but I sure did and still do love great classic rock and roll.)
Union Bank outdid themselves in sponsoring the concert and I am so grateful to have been among the invited patrons. Thank you New Banker Friends!
Maybe debt isn't so bad after all.
welcome!
This is a blog about what it's really like to be in the wine industry...so sit back, take a sip and enjoy!

about me

our wines

our winery

our events

contact me

privacy statement




favorite posts
A Lifetime in Wine
Top 10 Traits of the Successful Family Winery
The Dreaded Family Meeting
Board Meeting Jitters
Is the Future of the Winery in Danger?
The Case of the Overweight Bottle
Wine and Dementia
Wanted: Talented (Normal) Individual for Family Owned Winery
A Sea of Wine
The Heroes of Our Industry
monthly archives
subscribe