Hollywood, Here I Come!
It seems like an annual rite of passage at this point. For more than a decade (this is actually year 12) I have made the trip to Southern California for the

Screen Actors Guild Awards

. This premier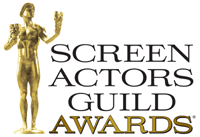 awards show is the only one where actors vote for actors in all genres of film and television. It is quite an honor for our wines to be there - in fact, I really can't think of another winery like ours that dominates the dinner tables and wine bars of such a prominent event like the SAG Awards.
With all of the pomp and circumstance of the weekend, my time commitment has now turned into four days of build up to the Sunday night culmination. One of the great opportunities for us to share our story with the media is actually on the Thursday before the show at the behind-the-scenes media day at the Shrine Auditorium. This is quite a scene all to itself.
As I am part of the "talent" for the day, it is a long and rather grueling day full of flurries of activity and sometimes hours of boredom. By the way, I am told this is typical of any Hollywood production - lots of waiting and waiting and waiting.... Anyway, media day can be a great opportunity for me to share my family story and wines with media who otherwise would not cover a winery. Outlets such as Entertainment Tonight, news crews and others are on hand to shoot b-roll and gather sound bites for their evening shows. The whole thing is kind of surreal and really puts me out of my element in a lot of ways. For one, I have to be really aggressive. If you are a wall flower at these kinds of things, the press will march right by you and not give you a second look. You have to confidently walk up to them and say who you are and why they should care. This is not easy, trust me. I've never been an overt self promoter so I really have to muster up some intestinal fortitude. Another challenging aspect of the day is trying to involve myself in as many still photo shoots as possible. Stills are an important way that the media conveys a story. Once again, I have to elbow my way in to make sure that Dry Creek Vineyard wines are being well represented. Ultimately, the entire media day is exhausting but well worth the time and a major perk for being the official wines of the Screen Actors Guild Awards.
As for the show, it airs this Sunday, January 29, 2012 and is televised live on TNT and TBS at 8 ET/5 PT. I hope you all will be able to tune in to see Dry Creek Vineyard wines on national TV!
welcome!
This is a blog about what it's really like to be in the wine industry...so sit back, take a sip and enjoy!

about me

our wines

our winery

our events

contact me

privacy statement




favorite posts
A Lifetime in Wine
Top 10 Traits of the Successful Family Winery
The Dreaded Family Meeting
Board Meeting Jitters
Is the Future of the Winery in Danger?
The Case of the Overweight Bottle
Wine and Dementia
Wanted: Talented (Normal) Individual for Family Owned Winery
A Sea of Wine
The Heroes of Our Industry
monthly archives
subscribe