Reflections from Hollywood
Big lips. Big boobs. Little bodies. Or, is it Big lips. Big boobs. Big dreams? Whatever the case, being freshly back from LA LA Land (aka Hollywood/Beverly Hills) feels a bit like stepping into a different galaxy. While my life here is abundantly rich and full, with sparks of excitement and glamour from time to time, it's clear that life in So Cal is different. At least that's the impression I got last week during my annual participation in the Screen Actors Guild Awards.

It isn't actually the SAG Awards that are an issue. While I can't say I'm an expert on awards shows, the overall ambiance and feel of this particular celebrity studded event is actually very down to earth and convivial. Guests are there to celebrate their craft and share in their friends' and colleagues'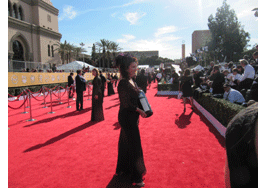 successes. After all, imagine being chosen for a SAG Award by members of the Screen Actors Guild-isn't that the best compliment an actor could have?

"Look mom, they like me!"

Maybe that's why I feel so comfortable talking up my wines to such an illustrious crowd of Hollywood's who's who. Because they're actually hard working, passionate craftsman, just like you need to be in the wine business.

But there's no denying that the culture of Beverly Hills is vastly different than my own. Plastic surgery, expensive cars (we're talking Maseratis and Buggatis not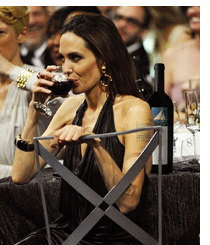 your run-of-the-mill Mercedes Benz or BMW!) and dressed to the nines, skinny (and I mean skinny) beautiful people are the norm. While fun to observe, it must be very difficult to live like that on a daily basis. I know I couldn't.

Nonetheless, I strutted my stuff with the best of them as I worked the Red Carpet on show day. I shamelessly preached, promoted, and promenaded trying to gain awareness for our wines. I flaunted my big bottle, and chatted up the brand with as many people as I could. Then, I sat back and observed. One person in particular caught my eye.

Now that is something I don't see every day!
welcome!
This is a blog about what it's really like to be in the wine industry...so sit back, take a sip and enjoy!

about me

our wines

our winery

our events

contact me

privacy statement




favorite posts
A Lifetime in Wine
Top 10 Traits of the Successful Family Winery
The Dreaded Family Meeting
Board Meeting Jitters
Is the Future of the Winery in Danger?
The Case of the Overweight Bottle
Wine and Dementia
Wanted: Talented (Normal) Individual for Family Owned Winery
A Sea of Wine
The Heroes of Our Industry
monthly archives
subscribe