I Feel Screwed
Sometimes I feel like I'm selling myself short. Like I'm compromising my standards to adapt to the changing whims of an increasingly competitive industry. Case in point: The use of screw caps instead of a traditional cork finish. When this trend first appeared on the wine scene, I thought you've got to be joking?? Who on earth would want to buy fine wine with a screw cap finish? Even the avant garde trendsetter wineries, who were first on the scene with these alternative closures, seemed destined for failure. Early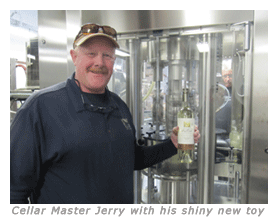 models were hard to open. They were sharp and tended to cut your hand if you weren't careful. But mostly they evoked memories of cheap low class jug wines drunk in back street alleys. On a personal level, I found the experience of a screw cap less than satisfying. I'm sorry but there's something missing from the sensory experience of opening wine when you simply twist your hand to the right, hear a slight "zzztt" sound, and presto magic, the bottle is open.
But as times change, so must I. And, so I've succumbed to the idea of screw caps in a big way. In fact it's so big that we just installed a shiny new Italian screw cap machine so we can start screw capping our Chenin Blanc, Fume Blanc and Sauvignon Blanc bottlings without the need to bring in a mobile bottling line.
You should know that this decision was not unanimous. In fact, my husband and I were polar opposites in our way of thinking. He felt strongly that distributors and the trade, particularly restaurants, would embrace our decision. I was convinced that the public, our loyal diehard Dry Creek fans, many of whom are very long term customers, would be put off by our decision. In the end, I lost the battle, so last year we started using screw caps on our 375ml bottles and now on the 750ml bottles of our major white wines as well. Do I like them? Not really. But they do have their distinct advantages.
The possibility for cork taint or "corkiness" is completely eliminated. There's no chance of being stuck without an opener if you find yourself on a desert island with only one bottle of wine left. And, they are generally a less expensive closure than the combination of a cork and capsule finish combined. Alas, we've gone and done it.
For now, I'm limiting our usage to our lively and refreshing white wines--what we refer to as "summertime in a bottle". I can't quite get behind the idea of a red wine in a screw cap yet, although the idea has been presented. For now, I'm sticking with tradition. And, the hope that there are others out there like me, who believe that the magic of wine includes the farming of the grapes, the appellation of origin, the artistry of winemaking, and the pulling of a little tan piece of bark, used for centuries around the world.
welcome!
This is a blog about what it's really like to be in the wine industry...so sit back, take a sip and enjoy!

about me

our wines

our winery

our events

contact me

privacy statement




favorite posts
A Lifetime in Wine
Top 10 Traits of the Successful Family Winery
The Dreaded Family Meeting
Board Meeting Jitters
Is the Future of the Winery in Danger?
The Case of the Overweight Bottle
Wine and Dementia
Wanted: Talented (Normal) Individual for Family Owned Winery
A Sea of Wine
The Heroes of Our Industry
monthly archives
subscribe