We are the Champions!
Alright, we'll admit it - we are a slightly competitive group at the winery. And so, when we set out last Friday (February 24) for the annual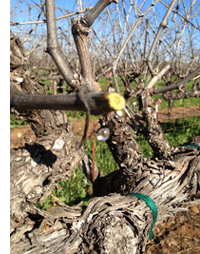 Vineyard Pruning Championships sponsored by the Sonoma County Winegrape Commission we definitely had ideas about beating out our other competitors.
The day began warm and friendly. Coffee and donuts were served and the rules were provided to each team involved in the competition. Really, there were two competitions happening - one for the "real" pruners - those hardworking guys who actually spend endless hours hand pruning vineyards all over Sonoma County. Then there was the "other" competition - a friendly contest pitting appellations against each other with a winemaker and vineyard manager on each team. Representing the Dry Creek Valley (and Dry Creek Vineyard) was Nova Perrill our Assistant Winemaker and Matt Vogensen our Vineyard Manager from Bevill Vineyard Management.
As we walked out to the vineyard the friendly banter began about who was going to win and why. It's not often we all come together for some spirited competition so everyone's juices were flowing and of course, ultimate bragging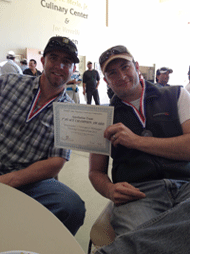 rights were on the line! The agenda for each team was simple - prune two vines perfectly and do it in the fastest time possible. Points are added (or subtracted) for how the vine is cut, if the correct spur is left and whether or not the canes are properly removed from the wire. Only about 1/3 of the total score is based on how fast the teams completed the challenge.
When the gun sounded, team Dry Creek feverishly started pruning. Nova and Matt were the first to finish completing two vines in just less than 1 minute. Just to give some perspective, a seasoned and skilled vineyard worker can prune that amount in half the time - pretty remarkable!
After the competition, lunch was served at the beautiful Shone Farm in the Russian River Valley. Awards were distributed and ultimately, Nova and Matt were given first prize! Check out the video to watch these champions work!
welcome!
This is a blog about what it's really like to be in the wine industry...so sit back, take a sip and enjoy!

about me

our wines

our winery

our events

contact me

privacy statement




favorite posts
A Lifetime in Wine
Top 10 Traits of the Successful Family Winery
The Dreaded Family Meeting
Board Meeting Jitters
Is the Future of the Winery in Danger?
The Case of the Overweight Bottle
Wine and Dementia
Wanted: Talented (Normal) Individual for Family Owned Winery
A Sea of Wine
The Heroes of Our Industry
monthly archives
subscribe