40 Years Ago Today
I'm a bit nostalgic today. 40 years ago, on August 24, 1972, my Dad finally got the permit to build Dry Creek Vineyard at the corner of Dry Creek Road and Lambert Bridge Road. At the time, I was just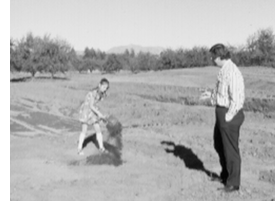 9 years old and preoccupied with making friends in the new town we'd just moved to called Healdsburg. I recall being mostly focused on Barbies and Batman - not on some silly winery. However, the now iconic photo of me turning over that first shovel full of dirt with Dad looking on is truly emblematic of our winery 40 years later. I'm the President now and Dad is enjoying his retirement, albeit with one eye still on the family business. I know he's proud of our success - the winery is doing well despite some of the economic land mines that we know are out there. The wines have never been better and with our winemaker Tim Bell on board, future vintages are in very good hands. I feel really positive about our business for the rest of 2012 and beyond.
So positive, in fact, that we are going to take a day off! Yep, that's right -the entire DCV crew is heading up to Lake Sonoma today for an afternoon of barbecuing, water skiing and good old fashioned family fun. We are actually CLOSING our doors for the day - a first for us on a non-holiday. I figure, what better way to celebrate our 40th than with our winery family and the dedicated employees who have helped make this business possible.
So let's raise a glass to Dry Creek Vineyard and say Happy Birthday - forty never felt so fabulous!
welcome!
This is a blog about what it's really like to be in the wine industry...so sit back, take a sip and enjoy!

about me

our wines

our winery

our events

contact me

privacy statement




favorite posts
A Lifetime in Wine
Top 10 Traits of the Successful Family Winery
The Dreaded Family Meeting
Board Meeting Jitters
Is the Future of the Winery in Danger?
The Case of the Overweight Bottle
Wine and Dementia
Wanted: Talented (Normal) Individual for Family Owned Winery
A Sea of Wine
The Heroes of Our Industry
monthly archives
subscribe