Harvest is Here!
It's amazing how much things can change in 24 hours.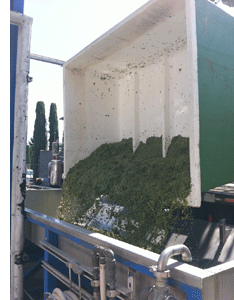 Yesterday I went out to the crush pad to find the crew busy with last
minute harvest preparations. Cleaning tanks, making sure the crusher/destemmer is in good working form, calibrating the lab equipment, etc. Today, all hell broke loose! We received
our first load of grapes at 6:45 a.m. Normally I hear the trucks roll in with their unmistakable "kaboom" sound as the metal gondolas rattle along the bumpy road en route to the winery. For some reason, I didn't hear a thing this morning. So when I arrived, I was surprised to hear we had already brought in our first load of fruit.
The weather is rather temperate right now, so I view it as a "soft" start... a nice way to rev up for what will likely become a fast and furious harvest. So far, the 2012 summer has provided near perfect conditions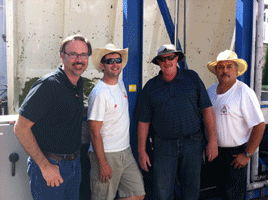 - a long warm summer with plenty of cool evenings and foggy mornings. And no nasty rain mid season to mess things up. Of course, a lot can change... I don't want to jinx it!
As we approach the busy Labor Day Weekend (we've got 2 huge events and a fancy dinner in the cellar) think of all those hard working grapegrowers, winemakers, and cellar workers who are out there scrambling - trying to stay one step ahead of good ole Mother Nature!
welcome!
This is a blog about what it's really like to be in the wine industry...so sit back, take a sip and enjoy!

about me

our wines

our winery

our events

contact me

privacy statement




favorite posts
A Lifetime in Wine
Top 10 Traits of the Successful Family Winery
The Dreaded Family Meeting
Board Meeting Jitters
Is the Future of the Winery in Danger?
The Case of the Overweight Bottle
Wine and Dementia
Wanted: Talented (Normal) Individual for Family Owned Winery
A Sea of Wine
The Heroes of Our Industry
monthly archives
subscribe